Book for the 38th West London Local History Conference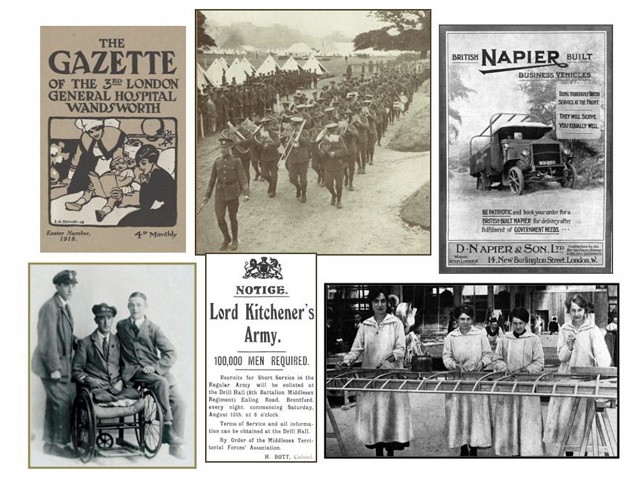 The 38th West London Local History Conference takes place on Saturday 24 March at University of West London, Boston Manor Road TW8 9GB.
This year's speakers share the results of their research to mark the centenary of the end of the First World War. They will describe how the war affected individuals, communities, organisations, businesses and the local landscape.
Programme
9.30 Doors open for viewing of sponsoring societies' book stalls
10.00 Welcome by Val Bott, chairman of the organising committee
10.05 The conference theme introduced by Neil Robson, Editor, Wandsworth Historian
10.15 When the War Began: responses in Acton, Brentford, Chiswick and Hounslow
John Grigg, labour historian, using his research in local newspapers
10.50 COFFEE
11.25 The cost in lives of the men of 'The Alberts', a small community in Richmond
Valerie Boyes, local historian & former lecturer in History Education
12.00 World War I's Legacy in Fulham & Hammersmith
Keith Whitehouse, Chairman, Fulham & Hammersmith Historical Society
12.30 Injured bodies, broken hearts, damaged businesses
Personal stories revealing the impact of war, read by the organising committee
1.00 LUNCH
Afternoon session chaired by Neil Robson
2.00 Women workers, tribunals, memorials
Historical documents on our theme, read by the organising committee
2.45 Feltham: how war transformed a village into an industrial suburb
James Marshall, Hounslow's Local Studies Librarian
3.20 TEA
3.55 Queen Mary's Hospital, Roehampton: the pioneering treatment of war injuries
Tom Stanier introduces a showing of his centenary film
4.25 Summary of the day's proceedings
4.30 Conference ends
The university's Brentford Campus lies at the NW corner of the Boston Manor Road/A4 junction, 10 minutes' walk from Boston Manor Station (Piccadilly Line) and Brentford Station (SWR), with free parking on site. It lies beside the M4 below the flyover. The building is entirely wheelchair accessible. Your ticket includes morning coffee and afternoon tea. However the refectory
will open specially for conference attendees, offering coffee on arrival and sandwiches for lunch. You are also welcome to bring a packed lunch if you prefer.
Tickets are £15.00 and available only in advance from sponsoring societies or by post from J McNamara, 31B Brook Rd South,, Brentford TW8 0NN. Make out a cheque to ''West London Local History Conference'' enclose a stamped addressed envelope.

The conference is sponsored by the local history societies for Acton, Barnes & Mortlake, Brentford & Chiswick, Fulham & Hammersmith, Hounslow, Little Ealing, Richmond, Twickenham, Wandsworth and the West Middlesex Family History Society.
March 12, 2018