Associated Articles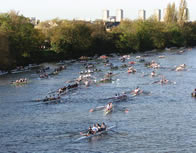 Participate
Sign up for our weekly newsletter:

PutneySW15.com
The annual Fuller's Head of the River Fours, return to the Thames for the 56th time at 9:30am on Sunday 14th November, when over 2000 rowers from across the UK and Europe will take to the water in 505 boats, to compete over the four and a quarter mile Championship course from Mortlake to Putney - the first time that the HOR4s has taken place on a Sunday.
Bill Mitchell, the President of the event explained: "Because of the large number of crews we have to get afloat and the early tide times this year, the 14th is the only day we can run the race safely. We hope to have all crews started before 11am and have reminded the crews and officials that it will be Remembrance Sunday, and they should act accordingly."
The 2010 race, which comes only a week after the end of the Rowing World Championships in New Zealand will, as a result, take place without its usual large quota of International and Olympic rowers, however, spectators will still have the opportunity to watch the next generation of GB internationals compete, as most members of the 2010 GB Under-23 and Junior squads are entered.
Also on show are boats from both Cambridge and Oxford universities, providing boat race fans with an early opportunity to gauge the respective abilities of the 2011 boat race squads, as each university has five crews taking part.
Competitors are entered in one of 21 different categories, from Junior coxed fours to Women's Elite lightweight quadruple sculls. The race takes the form of a time trial – with crews set off around 6 seconds apart and timed over the 7km stretch of the Thames between Chiswick and Putney Bridge -- all for the chance to win their category and earn a much-coveted place at the prize giving in Fuller's Griffin Brewery in December.
It can take each crew anywhere between 17 and 30 minutes to get down the course depending on the weather conditions, fitness and technique. Both the organisers and competitors will be keeping their fingers crossed for good weather, as the 2009 race was cancelled at the last minute due to poor conditions.
The action will last a couple of hours; spectating along the whole course is free and there are plenty of good vantage points from which to watch. Stalls selling refreshments and rowing related goods will be available outside many of the local Tideway clubs, especially on Putney embankment and near Hammersmith Bridge.
More details about the history of the race and a full start order are available on the event website at www.hor4s.org.uk
November 5, 2010