Perfect Conditions for this year's Chiswick to Putney race
Related Articles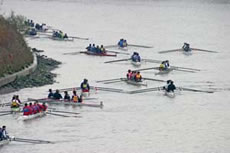 Photos from Jet Photographic
Near perfect racing conditions and some high quality international standard crews resulted in a new course record being set at the 52nd Fuller's Head of the River Fours on Saturday.
The record time of 17 minutes 21 seconds, over the famous four and ¼ mile Championship course from Chiswick to Putney, was set by the Tideway Scullers Quadruple scull containing current world champion, New Zealander Mahé Drysdale; Olympic Gold medallist, Slovenian Iztok Cop and GB internationals, Alan Campbell and Mike Hennessy.
The Tideway Scullers quad, who started second, battled with last year's winners Leander over the first half of the course, finally overtaking them near Hammersmith Bridge and going on to win by an impressive eleven seconds.
Thousands of rowers in a total of 509 crews from across the UK and Europe descended on the river Thames raced to race in the event, each competing for one of the twenty available pennants. A Cambridge University coxed four was the fastest non-sculling crew, beating a Leander four which contained, Steve Williams, Alex Partridge and Peter Reed, three members of the world champion GB coxless four.
Fuller's brewery has been associated with the race for the last 27 years and the prize giving will take place in the Hock cellar at their Griffin Road Brewery in December.
The Pennant winners are listed below
| | | |
| --- | --- | --- |
| EVENT | WINNING CREW | BASED AT |
| Elite 4x- | TIDEWAY SCULLERS I | Chiswick |
| Sen1 4x- | MOLESEY BC I | Molesey |
| Sen2 4x- | IMPERIAL COLL I | Putney |
| Elite 4+ | CAMBRIDGE UNIV II | Cambridge |
| Elite 4- | LEANDER IV | Henley |
| Jun 4x- | HENLEY RC V | Henley |
| Sen1 4- | OXFORD BROOKES II | Wallingford |
| Sen2 4- | OXFORD BROOKES V | Wallingford |
| Sen1 4+ | UNIV OF LONDON BC I | Chiswick |
| W Elite 4x- | MARLOW RC /THAMES RC | Marlow / Putney |
| W Elite 4- | LEANDER X | Henley |
| Sen2 4+ | OXFORD BROOKES VII | Wallingford |
| Sen3 4+ (A) | ETON COLL I | Eton |
| Sen3 4+ (C) | AGECROFT IV | Manchester |
| W Sen2 4x- | READING UNIV V | Reading |
| W Jun 4x- | MAIDENHEAD RC II | Maidenhead |
| W Sen2 4+ | OSIRIS II | Oxford |
| W Elite 4+ | THAMES RC XIV | Putney |
| W Sen3 4+ (A) | CAMBRIDGE U W V | Cambridge |
| W Sen3 4+ (C) | THAMES RC XIX | Putney |
November 24, 2006