Teenager to raise funds for school
Related Links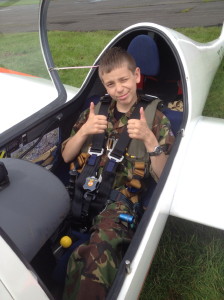 For those wishing to support Viktor, please visit his website - www.justgiving.com/Viktor-Woloszczuk - to find out more.
Participate
Comment on this story on the forum
Local Acton resident, Viktor Woloszczuk who goes to Gunnersbury School will be walking 100 miles to help raise money for his school.
The 14-year-old will be one of over 50,000 youngsters from across the globe taking part this summer in the International Four Day Marches in Nijmegen, Holland.
The 'Vierdaagse' (Dutch for 'four day event') has taken place every year since 1909 and is the largest organised walking event in the world.
Viktor is part of the 342 Squadron ATC Air Cadets and will be walking with the RAF Middlesex Wing Walking Club. He will walk 25 miles each day through the Dutch provinces of Gelderland, Brabant and Limburg. In preparing for this challenge, Viktor has so far undertaken a number of 25-mile day long walks and a 50-mile two day walk.
He says: '' The walking hasn't been too difficult but I do get blisters now and again. I'm just hoping that we'll be fed well and that we won't be walking along too many canals."
His mum Kin says: '' I'm very proud of him, and pleased that he enjoys the walking so much. I'm a bit concerned about the 4 days. He's done a 2-day march, which he found exhausting, particularly at the end of the second day. I'm sure the group that he's going with will look after him, but he's likely to be really worn out at the end of it.
Viktor is currently training hard - on top of his schoolwork - to ensure he is fully ready for the gruelling challenge. In addition to walking 100 miles over four days, he has set himself an additional personal challenge to raise £1,000, which he intends to donate to the school
17th June 2013