Hear Malcolm Jones discuss The Honourable and Dishonourable Art of Acting
This month's talk in the series presented by Arts Society Chiswick is to be given by Malcolm Jones, discussing The Honourable and Dishonourable Art of Acting.
It takes place on Thursday 14 March at 8pm in the Malinova Room at The Polish Centre (POSK), 238-246 King Street, W6 0RF.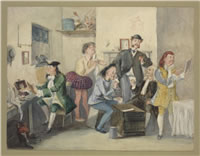 Shakespeare described actors in Hamlet, writing 'they are the abstract and brief chronicles of our time'. Actors tell stories that reflect the hopes and anxieties of our times from Greek tragedy to the Royal Court. Often seen in the past as rogues and vagabonds, the road to respectability was a long and lively journey with some fascinating characters along the way. The start of the 20th century established the actor as an 'honourable' profession with the knighthood of Sir Henry Irving and the great generation of actors emerged including John Gielgud, Laurence Olivier, Peggy Ashcroft and Edith Evans.
Malcolm Jones studied at University of London, King's College, London & RADA. He has worked as an actor, director and teacher and backstage at the Royal Opera House. He was Workshop and Events Manager at the V&A Theatre Museum in London for 10 years and since 2009 he has lectured for the V&A on the Short and Year Course Programme on Theatre.
He has taught at Rose Bruford College, Mountview Theatre School, The Actors Centre and RADA and works for Age Exchange Community Arts in Blackheath. He has written material for The National Theatre Education Department and has contributed as a speaker on theatre to many television programmes. He lectures for Road Scholar USA Theatre Courses and has lectured in America. He also devised and taught an adult Acting Course at New Wimbledon Theatre from 2015 to 2018.
Visitors are welcome for a fee of £10 per lecture. Bar open from 7pm.
The Lecture Series continues every month in 2019 on the following dates:
DateLecture
14 March 2019
The Honourable & Dishonourable Art of Acting
11 April 2019
The Beauty & History of Frames
09 May 2019
Harlots, rakes & crashing china - an accidental introduction to ceramics and Hogarth's world
13 June 2019
The Hands of Leonardo da Vinci
11 July 2019
The World of Pieter Bruegel the Elder
19 September 2019
Eric Ravilious: a life in Pictures
10 October 2019
The Magic of Prague: Czech art and culture
14 November 2019
Art inspired by wine
March 11, 2019