Penny Flood recommends Barons Court Theatre's tale of fairies, lords and love potions
This is a gorgeous interpretation of Gilbert and Sullivan's great political satire: a cautionary tale of the perils of letting fairies into the House of Lords.
A talented team of ten enthusiastic young people sing and dance their way through this daft convoluted story with some nifty choreography making the most of the tiny stage. The designers, Rachel and Fiona Middle, have gone to town with lovely fairy costumes and transformed the bare brick walls into Fairyland with strands of ivy, silvery cobwebs and twinkly lighting. It's very pretty.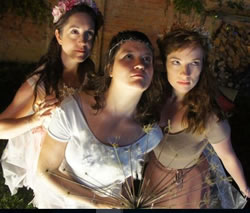 The story opens in Fairyland which isn't a happy place. It's been 25 years since Iolanthe (Aimee Daniels) was banished to the bottom of a pond for the crime of marrying a mortal. Her sisters, Celia (Helen Clutterbuck) and Leila (Isabelle Paige), are missing her, and after much pleading the Queen (Caroline Carragher) relents and let's Iolanthe come home. But there are complications because, before she was banished, Iolanthe had a baby boy Strephon (David Jones) who is now 25 and working as a shepherd. Who's the daddy? That's a big surprise, you have wait to the end to find out.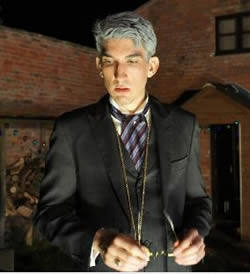 Things get more complicated as it turns out that Strephon is in love with Phyllis (Joanna Goldspink). Unfortunately she's the ward of the Lord Chancellor and whoever heard of a ward of the Lord Chancellor marrying a shepherd? And that's just the start. Because she's a fairy Iolanthe hasn't aged in the 25 years and still looks young, which doesn't sound much but it sends the plot skittering off in all sorts of new directions.
From Fairyland the action moves to the House of Lords where the Lord Chancellor(William Remmers, who is also the musical director) and his two chums Lords Mountararat and Tolloller (Roland Harrad and George Priestly respectively) are celebrating their superiority and discussing which of them will marry Phyllis.
Then the fairies arrive and nothing is ever going to be the same again. Confusion abounds as absurdity piles on absurdity with misunderstandings at every turn, never missing any opportunity to take side swipes at the snobbery and sense of entitlement of the ruling classes. It's clever, witty and inventive and very, very funny. They've even taken a few liberties with the script and it works. For example Gilbert never wrote:
'She says she'll see him after dark
Meet him in St James' park
Where she'll give him one',
But it's more or less what he meant.
And so it careers along for two highly entertaining hours until finally, with the aid of some fairy dust, love potions and Sipsmiths gin, everything turns out alright, if somewhat surprising.

Musical accompaniment is by Christopher Jacklin on a tiny piano. He also doubles as Willis, an innocent soldier who inadvertently gets dragged into things, not that he minds.
Sadly, as much as I loved it, I do have a problem with a bit in the middle. The two lords are having a picnic and the sense of brotherhood in the Upper Chamber overcomes them. It was all far too explicit and less would have definitely been more. It was unnecessary and silly, it didn't add anything and interrupted the flow. Happily it didn't take too long to right itself and get back on track.
It's produced by Forbear! Theatre the same team that brought the excellent Ruddigore last summer. They have a great way of interpreting G&S operettas so we can only hope they come back again soon. Pirates of Penzance would be fun.
Iolanthe continues at Barons Court Theatre, at the Curtains Up pub in Comeragh Road, W14 till Sunday 18 December at 8pm. No performance Monday 12 December
TICKETS: £18 and £15 (Equity Members: £8).
BOX OFFICE: 020 8932 4747
EMAIL BOOKINGS: Send details of performance and number of tickets required to londontheatre@gmail.com. Then pay for them, in cash, when you come to the performance.
December 9, 2016