Open studios in Chiswick, Hammersmith and Shepherd's Bush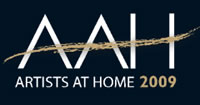 Open studios in West London.
Painting, ceramics, sculpture, printmaking, photography, textiles, jewellery, mosaic.
Friday 19 June 6-9 pm (not all studios)
Saturday 20 June 11am-6pm
Sunday 21 June 11am-6pm
A free illustrated studio guide gives an example of every artist's work and a map. This is available at shops and other outlets throughout the area or by texting your full address to 07956 953 153 (or ringing the same number). Full details are also at: www.artistsathome.net
Artists continue to create work regardless of the recession crunching its way through our lives. It's their natural way of responding to the world around them – or escaping from it.
This applies to viewing too. Regular visitors to Artists at Home - when artists in Chiswick, Hammersmith and Shepherd's Bush open their studios - have discovered how rewarding it can be. Last year, one visitor wrote: "A wonderful event – thoroughly enjoyable, informative and edifying". The whole weekend is relaxed and there is no pressure to buy. Of course, the artists won't argue with those who feel that the pound might as well be invested in something that gives pleasure, but there won't be any bullying.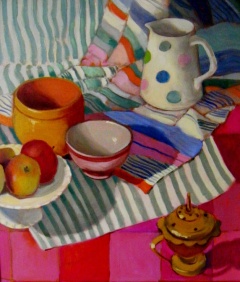 This year Artists at Home (AAH) has a record number of participants (54). As usual, there is a rich diversity of works on show: painting, ceramics, sculpture, photography, textiles, printmaking, jewellery and mosaic.
As well as new artists, AAH welcomes a new principle sponsor. Derek Fletcher is re-emerging as the property expert of the area with his new company Edward d'Arc* and, with typical confidence, he recognises the value of being associated with such a long-established event as Artists at Home. The imaginative sponsorship includes the d'Arc Buyers Prize (DAB for short). Visitors going to 8 or more studios can enter a prize draw, with the chance of winning a token worth £150 to be spent on a piece of artwork.
May 14, 2009