To include painters, sculptors, textile designers, photographers, and jewellers
Related Links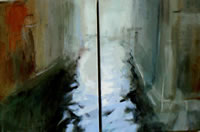 Artists at Home 2007
Fri 15 June 6-9 pm (not all studios)
Sat 16 June 11am-6pm
Sun 17 June 11am-6pm

enquiries2007@artistsathome.net
Studio Guide:
SimonTaylor 07956 953 153 (or text name/address)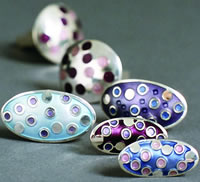 ARTISTS AT HOME (AAH) is an annual celebration of the wealth and diversity of creativity in Chiswick, Hammersmith and Shepherd's Bush. This year 47 painters, sculptors, ceramicists, textile designers, photographers, print-makers and jewellers will welcome visitors to their workspace, whether a dedicated studio or a corner of the living-room. You can browse, ask about the techniques and processes, have a little refreshment – and purchase or even commission works!
ARTISTS AT HOME is especially attractive to those living in West London, but the artists taking part are far from parochial. Many have regular gallery exhibitions and painters Elaine Brown and Ben Johnson are involved with Liverpool as European Cultural Capital of 2008.
Johnson is working on a commission from National Museums, Liverpool, to make a celebratory cityscape. Brown will have a solo show in Liverpool Cathedral, alongside an installation by Tracey Emin.
Fletcher Estates are the principal sponsors of Artists at Home. Last year the Fletchers Art Buyers' Prize was launched. This proved so successful in attracting people to visit more studios that the scheme is being repeated this year. Joanna Brendon, Chair of AAH comments: "It is not just the artists who are expressing themselves; the visitors, and especially the buyers, are also making statements about their aesthetic preferences".
On June 9 and 10, AAH will have a stand at Green Days, the launch of the Bedford Park Festival. Studio guides and maps can be picked up, and a rota of artists will be there to chat to visitors and potential new members of AAH.
A free illustrated studio guide gives an example of every artist's work and a map. This is available at shops and other outlets throughout the area or by ringing or texting 07956 953 153. Full details are also on the website: www.artistsathome.net.
May 25, 2007