Report any sightings and don't touch
Ealing Council is warning residents to be on the lookout for potentially toxic caterpillars this summer.
The larvae of Oak Processionary Moths has been spotted on oak trees in the borough and the council's Tree Service is taking action again this year by treating the affected trees.
Officers are working with the Forestry Commission to locate and destroy the larvae, which is affecting large parts of west and south west London.
The caterpillars feed on Oak leaves and produce silken nests on the trunks and branches of affected trees. If the tiny hairs from them are blown in the wind, come into contact with people or animals it can cause itching, rashes, eye problems, and in extreme cases, breathing problems.
Councillor Phil Taylor, Cabinet Member for Community and Customer Services, said: "It is important that people report any sightings to us so the nests and caterpillars can be dealt with safely. Residents should not deal with the problem themselves, or touch the nests or larvae."
The council is able to offer support and advice about treatment to residents who discover any nests in their garden and arrange an appointment for a survey and quotation from our contractors for the removal of the nests.
If you think you are showing symptoms associated with the Oak Processionary Moth caterpillars visit your GP or call NHS Direct on 0845 4647.

Residents are being asked to call Ealing Council's Tree Service on 020 8825 5000 or email trees@ealing.gov.uk if they spot the hairy caterpillars or their nests.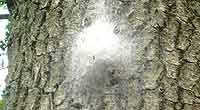 July 9, 2009