TfL want Londoners to plan their journeys
Unless you have been on another planet you are no doubt aware, a series of events are planned in London between Saturday 2 June and Tuesday 5 June to mark the Queen's Diamond Jubilee. The celebrations will take place at various locations across London over the extended weekend and TfL have put measures in place to cope with the large, expected influx of visitors as well as keeping the city moving over this period.
Central London will be unusually busy throughout the weekend and we advise that anyone intending to be there at this time to plan their journeys ahead of travel, to use public transport and to keep updated with the current travel situation. See www.tfl.gov.uk/diamondjubilee
Below is general advice for those moving around London over the weekend and detailed advice for the busiest days.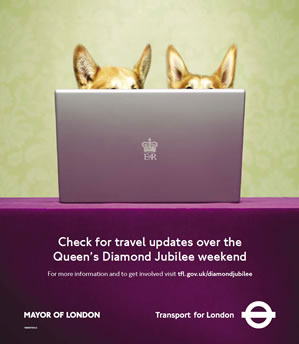 Pan-weekend transport changes:
Road Closures
There will be road closures around central London, please plan your journey in advance and check live traffic news or follow us on Twitter @TfLTrafficNews for real-time updates.
Tube
There are no planned engineering works over the weekend and the Tube is running a Saturday service on Monday 4 and Tuesday 5 June. For real time service updates follow your Tube line on Twitter. Stations around Hyde Park and the river will be busier than usual at points over the weekend so plan your journey and check before you travel.
Bus
Many roads around central London will be closed to traffic, with a number of bus services diverted or not running their full routes. See www.tfl.gov.uk/buses
Barclays Cycle Hire
Although most docking stations will remain available, due to expected congestion in central London it may be difficult to replenish some stations as necessary. Customers are advised to check the cycle availability by visiting Docking stations status on our website.
Sunday 3 June – River Pageant
Hundreds of thousands of visitors are expected to central London for the River Pageant. The event also requires significant road closures. We advise motorists to avoid central London for all but essential journeys. Access across the River Thames will be limited between 7am–8pm.
Road Closures
Many bridges between Battersea Bridge and Tower Bridge will have restricted access between 07:00 – 20:00.
Vauxhall Bridge, Waterloo Bridge, Southwark Road Bridge and London Bridge will be open to vehicle traffic for most of the day with full closures between 15:30 – 17:00. Capacity at these bridges will be limited.
The Piccadilly Big Lunch street party means that Piccadilly will be closed to traffic from 07:00 to at least 18:00.
Bus
Buses will not cross the river 07:00 – 21:30 between Battersea and Tower Bridge.
Instead a number of 'bus hubs' will be established at or near transport interchanges either side of the river. Bus hubs will be located at: Liverpool Street, Aldgate, Battersea Bridge Road, Chelsea World's End, Elephant & Castle, Farringdon, Finsbury Square, Holborn, London Bridge, Piccadilly, Tottenham Court Road, Tower Bridge Road, Vauxhall and Victoria. The full list of bus services affected is available at www.tfl.gov.uk/buses.
Tube
Stations along the river and around Hyde Park, St. James's Park and Green Park will be busier than usual.
River services
River boat services will not be running.
Tuesday 5 June – Thanksgiving Lunch
A ceremonial event starting late morning and finishing mid afternoon means areas around Hyde Park, St. James Park, Green Park and the Mall will all be very busy.
Road closures
Many roads around central London will be closed to traffic, particularly in the Westminster area, with a number of bus services diverted or not running their full routes.
Motorists are advised to avoid central London.
Other events
Due to other major events, stations near Emirates Stadium and Wembley Stadium may also be busier than usual over the weekend.
It promises to be an exciting weekend of celebrations that with appropriate journey planning can be enjoyed by all.

May 23, 2012