Switch to westbound closures on Sunday may lessen disruption
Hammersmith Flyover is closing again from Friday evening (June 27th) but Transport for London are hopeful of improved conditions from Sunday when they will switch from work on the westbound carriageway.
Originally it was planned that the eastbound carriageway would be closed and that led to substantial traffic jams across West London.
This weekend, the flyover will be closed eastbound towards central London from 22:30 tonight, Friday until late Saturday night, when it will reopen. The westbound carriageway will then be closed until 5:00 Monday morning. After this weekend, the closures for the following five weekends up until Monday 4 August will be westbound.
As part of the ongoing final phase of maintenance works, the Hammersmith Flyover is being closed in one direction for 10 weekends starting from 30 May, to allow concrete deck repairs, resurfacing and waterproofing works on the structure to be completed.

The closures will allow TfL to carry out waterproofing works which cannot be carried out while traffic is using the structure. This aims to extend the life of the flyover.

During the weekend closures, which will be in place from 10.30pm on Friday until 5am on Monday morning at the latest, any affected traffic will be diverted via the road network beneath the flyover and the A40 Western Avenue.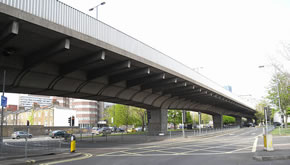 TfL say that the repairs have been carefully designed to be carried out in the shortest timeframe possible, helping to keep road disruption to a minimum. The works have also been coordinated around other works planned in the local area later this summer, including works to the Hogarth Flyover and Putney Bridge.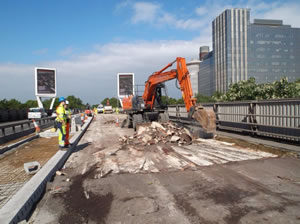 Dana Skelley, Director of Asset Management at TfL, said: "Our work to complete vital maintenance works to the Hammersmith Flyover are progressing well. These weekend closures are required to allow us to complete the next section of works as quickly as possible. Our overriding focus when planning these weekend works has been to keep disruption to a minimum and we are ensuring that any affected drivers will have a clear, signed diversion route to help them complete their journey."

June 27, 2014