New to the menu - Emile's is sourcing Longhorn beef from Yorkshire
Emile's have been in Putney for over twenty years and is a much loved haunt according to members views on the forum. The menu is changed on a monthly basis retaining popular favourites such as the signature dish the "Beef Welly".
New to the menu will be specials from the Yorkshire Taste Tradition suppliers of rare breeds. Owned & run by the Ashbridge family has farmed at Cold Kirby for three generations:
" The traditional methods of breeding, rearing and finishing livestock used in our grandfather's day are still evident in Charles's protocols. The combination of outdoor rearing and the breeds is quite simply incredible taste - 'the proof is in the pudding' as they say."

Emil told PutneySW15.com:
"2009 was our greatest year yet - we pride ourselves on offering great food in a relaxed atmosphere where customers quickly become friends. We are always looking to improve our menus and our customers dining experience. Rare breeds offer greater flavour but I should mention that the hanging of the meat is very important in achieving this."
The plan is to expand the choice of rare breeds on the menu with Taste Tradition as the suppliers. Emil continued;
"True provenance is important and we can guarantee this with our menu".

Emil's business partner & Chef Andy Sherlock told PutneySW15 that: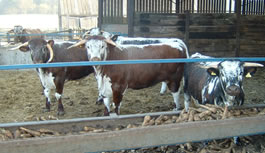 "The Longhorn steaks on the menu this month brings a taste of what is long gone. We aim to provide the opportunity to try these great meats at an affordable price".
Char Grilled Sirloin Steak - (30 Day Aged Longhorn Beef), served with bèarnaise or red wine sauce, chips & a rocket salad is on the menu for October and if you book a table this month Monday - Thursday evenings mention PutneySW15.com and get a free glass of Kir from Emil and his team.
September 21st 2010