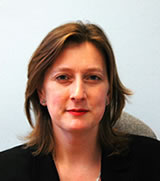 Councillor Leonora Thomson is to be made the new leader of Ealing Council after winning a poll of local Labour party members. She will replace Cllr. John Cudmore officially next Tuesday.
Ms. Thomson who represents the Greenford Broadway ward is a freelance communications consultant although she will abandon that career to concentrate on her Council responsibilities.

She contested the leadership with Martin Beecroft in what is understood to have been a tight vote. She is closely identified with the controversial 'Response' Project and is in favour of the West London transit scheme.
Her appointment follows close on the heels of Darra Singh taking over as Chief Executive of the Council and a new Borough Commander, Colette Paul, being put in charge of the police. In addition four new executive directors have joined the corporate board of the Council.