A Controlled Drinking Zone (CDZ) will come into effect in the local area on Tuesday, 1 March to help tackle the ongoing problem of street drinking.
While it will not be an offence to consume alcohol within the designated area, the police will have the power to stop people drinking and to confiscate alcohol. If someone, without a reasonable excuse, fails to comply with the request they are committing an offence and they may be fined or arrested. Police will be focusing on King St, High St, Safeway supermarket, Twyford Crescent, the north boundaries of the South Acton Estate, Acton Park and Southfield Recreation Ground. The zone also covers areas such as Acton Green and Bedford Park.
As well as the CDZ, an Alcohol Link Officer is now in post to work with the drinkers and assist with the implementation and effective use of the zone, to ensure that the punitive effects of the CDZ are balanced with support and assistance for Acton's street drinkers, through a process of referrals, outreach work and increasing awareness of support services amongst drinkers.
The council's Anti-social Behaviour Co-ordinator Natalie Pace said: "Recent legislative developments mean we have more power to deal with this issue. Guidance from the Home Office Anti-social Behaviour Unit specifically addresses street drinking".
Natalie added: "The issue of displacement has been discussed at great length. While it is impossible to exactly predict where drinkers might disperse to, the large zone boundaries of the CDZ will allow any new problems to be addressed as they arise.
"Street drinking is a complex problem and it can be hard to juggle the needs of all parties affected by it. It is hoped that the combination of the Controlled Drinking Zone and the work of the Alcohol Link Officer will be the start of effectively solving this issue for all those involved."

The controlled drinking zone is shown here: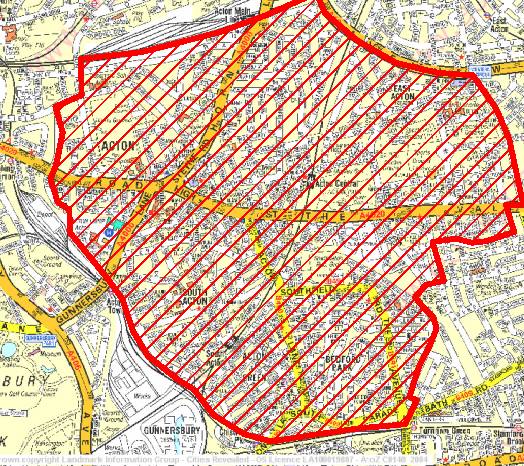 February 24th, 2005