Cllr. Gary Malcolm tells of his campaign to get a safer service
As one of the three local councillors who represent the residents of Southfield ward the issues surrounding the E3 bus are varied and have filled my post-bag many times over. Issues raised concern the speed of the buses and problems with the buses bunching on Southfield Road, especially the East-Western sections of the road.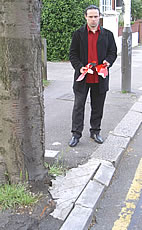 Last year there were two major incidents of damage that the E3 bus has caused. On these occasions, pavements, kerbing and trees were damaged – sometimes at the cost of the local authority. [See picture right of me holding bits of the E3 bus as well as the damaged pavement and tree] Upon hearing these reports of speeding and damage I spoke to residents and spent time gaining a detailed personnel perspective of the issues.
I contacted London Buses to obtain a time to meet them to discuss the problems many residents and I have seen. They made promise after promise. Every time headway was gained, members of their staff seemed to miraculously move team or leave the organisation. Every time a meeting time was arranged, it was cancelled!
Very recently though (after six or so months of trying) I did meet with a representative of Ealing Council, a senior manager from London Buses and a manager from First Buses, who run the E3 route.
The meeting was constructive where I put across the views of many Southfield residents. Liberal Democrats including myself would like to see improvements to buses and other public transport types but when it appears that problems may happen or are happening, then transport organisations and the Council need to work with residents to make sure things improve.
After enquiring previously about speeding E3 buses, London Buses ran a small number of speed checks in different areas of the E3 route, on two separate mornings. These showed that some buses did indeed go above the 30mph limit. I commented that there were not enough checks to gauge the full extent to which speeding occurs. I suggested that they should conduct more speeding checks in the Southfield Road and The Avenue area.
First Buses also acknowledged that the quality of some bus drivers was a problem and said they will work to make sure that complaints against particular drivers are followed up. In terms of damage to pavements, trees and cars they said they have procedures to investigate and First Buses' insurers pay up where they are at fault. In the examples I raised with him he said that no-one had reported the damaged pavements!
I do hope that this meeting will yield positive results so that those who use the E3 bus can get a good service while everyone in the Southfield area do not suffer problems that have occurred. The manager from First Buses offered to contact those residents who have had concerns about the E3 bus. He also said he would arrange visits for some residents, to the E3's depot, to show the checks and procedures they say they have in place.

Cllr Gary Malcolm,
Lib Dem councillor for Southfield
April 6, 2004