Contract with Amey to be terminated and authority will take over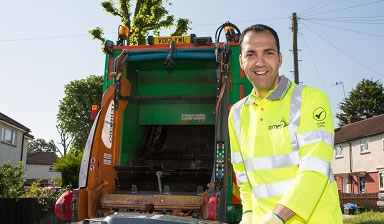 Ealing Council is taking back street cleaning, rubbish and recycling services following the end of its contract with its current provider Amey.

The decision, approved by the council's cabinet (Tuesday 10 July), agrees in principle to the founding of a local authority company (LAC) to deliver environmental services across the borough.

The council say by operating through the LAC, it will have greater control and more flexibility to respond to resident complaints and deliver the council's ambition to become the number one borough for recycling in London. All staff will earn the London Living Wage at a minimum and there will be apprenticeships for young people.

Councillor Mik Sabiers, cabinet member for environment and highways said: "We know how important it is to local people to have good recycling services, clean streets, beautiful parks and be able to minimise waste. We are encouraging residents to have more control and involvement in their local environment and this will enable us to do that.

"This decision will also allow us to further our commitment to increasing recycling rates and improving street cleaning in a time of increasing financial pressure.

"By maintaining the high standards of our environmental services into the future we can also build on our superb record of recycling – currently the second highest in the capital at more than 50%.

"We will also seek to get a better deal for staff providing Ealing's environmental services, ensuring they are properly valued for the important work they do and receive the London Living Wage."

The decision to explore other options for environmental services was taken by the council in March and the decision to end the current contract, which runs until July 2020, has been taken mutually with Amey. There will be a continuation of current arrangements until services are transferred.

All cabinet decisions are subject to call-in within five working days of publication of the minutes.
Cllr Greg Stafford, Opposition Leader said, ''The end of year performance indicators exposes yet again, that the service continues to fall short on litter cleaning, graffiti and flyposting. All hallmarks of ineffective management of the contract by the Labour Administration.
''The fact that Labour now feels enable to deliver the whole service speaks volumes on their arrogance.''
July 12th 2018