Rafal Ziemkiewicz was due to speak at event in Acton this weekend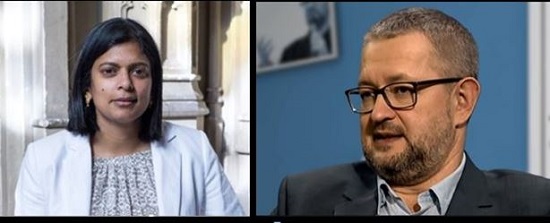 Ealing Central and Acton MP, Rupa Huq, has stepped in to stop a controversial event due to take place in Acton this weekend.
Rafał Ziemkiewicz, a right-wing Polish author and journalist who has been accused of comparing Muslims to "invaders" and "barbarians", was to speak as part of a tour by 'Independent Poland' at the Belvedere pub on Acton High Street on Sunday.
Following correspondence from concerned constituents Dr Huq notified local authorities who alerted the pub which is particularly popular among the local Polish community.

On Monday the licensee cancelled the event explaining they were not aware of the intended content at the time of booking.
Dr Huq said, ''I am relieved that it was blocked after the licensee became aware of the true nature of the gathering. This is a man with a track record of deliberately antagonising minority communities with his bigoted comments. His party pieces of Holocaust denial and Islamophobia are not welcome in Ealing."
Mr Ziemkiewicz has insisted he was not homophobic and said that his appearances would not be incendiary, adding, "I don't see any reason to worry about my meetings in UK … There is nothing in my books, articles etc that would be against the law or indecent.
"I'm well known in Poland and about 10 of my books have been on bestseller lists … For more than 20 years my work has been in the mainstream of Polish public life. As long as the conservative and patriotic position is not banned in Europe...I strongly deny such accusations."
He has threatened to sue Dr Huq and his supporters have castigated the MP for the move saying that it is against freedom of speech.
This is the second time in 4 months that the area has seen the cancellation of planned talks by Polish speakers. Marian Kowalski, vice-chairman of the National Movement announced he was to rally followers at Brentside High School on 21 October, the booking was revoked when the school became aware of his background. It was to be then held at the Polish restaurant Kuźnia Smaku, South Ealing Road and this too was prevented.
Mr Ziemkiewicz, is due to speak at events in Bristol and Cambridge on Friday and Saturday. The Home Office has been urged to prevent him entering the UK by political opponents in the country including Dr Huq.
A Home Office spokesperson said it did not comment on individual cases but added: "The home secretary may exclude an EEA national on the grounds of public policy or security if they pose a genuine, present and sufficiently serious threat."
15 February 2018