Leader helping boost campaign for local Labour candidate Rupa Huq
There was a palpable air of excitement in part of Acton this afternoon as Labour Leader, Ed Miliband, visited the Oak Tree Community Centre to rally the Party faithful.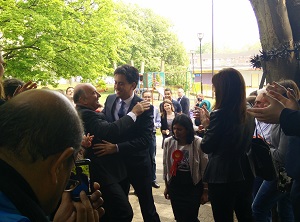 Mr Miliband was greeted by Ealing North Labour Candidate, Steve Pound, and received a rapturous reception from enthusiastic workers.
He talked about his own links with the two local constituencies recalling that his late father Ralph, had studied at Acton Technical College. When Miliband senior arrived in London during the Blitz he found work removing furniture from bombed out homes in Chiswick. He went on to study first at Acton and later at the London School of Economics. Mr. Miliband said he had visited the Ealing, Hammersmith & West London College campus two years ago.
He told the party faithful that the election was going to be incredibly close: ''This election is going to come down to the wire, this election is going to come down to the very last day.''
And he urged they cancel all birthday parties, nights out and 'DIY activities' and pull out all the stops to help get their candidate Rupa Huq elected in the closely fought seat of Ealing Central and Acton.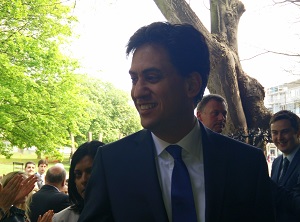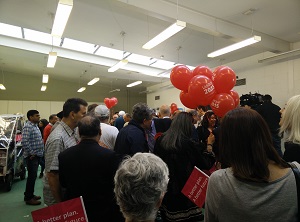 The Labour Leader said he was proud to support Rupa who would make an excellent local MP because she knew her constituency, and she was, he said 'running an incredibly energetic campaign, it's about empathy and listening to people and standing up for them and that's what Rupa will do.''
When asked about local concerns regarding problems with overdevelopment in W3 and other parts of Ealing, Mr Miliband said such issues had to be dealt with by local councils. However he acknowledged that many people were unhappy that new homes were being sold to buy-to-let landlords. He said Labour plan to give powers to councils to set aside at least half of new housing for local people and first time buyers.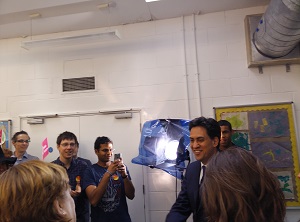 On hospitals Mr Miliband said if elected they would 'review' any decisions that had already been made locally, but he wasn't going to make any empty promises. He could however guarantee 20,000 more nurses and 8,000 more Doctors and said this had all been costed and was Labour's 'rescue plan' for the NHS.
On a lighter note Mr Miliband said he hadn't watched the new satirical Spitting Image style comedy 'Newzoids' - which pokes fun out of celebrities and politicians but said he was curious to see what they had turned him into.
He spoke of his legion of so called 'Milifans' - largely teenage girls who have been rallying support for the opposition leader on social media using the Twitter hashtag #milifandom.
He said, '' I think the Milifans are very generous and when I told my wife she thought it was a case of mistaken identity. But a serious point here is about young people and politics - young people feel they need a voice and I'm proud to stand up for them.''
Before they left, Mr Miliband and Ms Huq revealed that if forced to win votes by performing karaoke to the masses which song they would both sing.
For Ms Huq it would be 'Between The Wars by Billy Bragg' and Mr Miliband said both he and his wife Justine's favourite song is 'Angels' by Robbie Williams.
But sadly it's unlikely Mr Miliband (and Ms Huq?) will be performing in a karaoke bar near you - Mr Miliband reckoned his singing could possibly lose him votes.
Shame really, it would certainly liven up all the various political campaigns and it could even help encourage more young people to engage ... an idea for the future perhaps Ed?
Nominations for Ealing Central and Acton Seat
Jon BALL - Lib Dems. Angie BRAY - Conservatives. Scott DORE - Workers Revolutionary Party. Peter FLORENCE - UK Independence Party (UKIP). Rupa HUQ - Labour. Tammy RENDLE - Above and Beyond. Andrzej RYGIELSKI - Europeans Party. Tom SHARMAN - The Green party
Nominations for Ealing North Seat
Afzal AKRAM (UKIP) Meena HANS (Green) David Lawrence HOFFMAN (Trade Unionist and Socialist Coalition) Kevin MCNAMARA (Lib Dem) Thomas O`MALLEY (Conservatives) Steve POUND (Labour)
The election takes place on Thursday 7 May 2015 between the hours of 7:00 am and 10:00 pm
24th April 2015