Five Year rebuilding and restoration of organ at St Thomas'
Related Links
Participate
Comment on this story on the forum
A special concert will be held at St Thomas the Apostle in Hanwell to celebrate the completion of a five year project to rebuild their historic organ.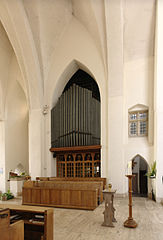 Photo by P. G. Champion
The organ was made in 1897 by the English firm J. W. Walker and Sons and given to the Hanwell church following the closure of another St Thomas' in Portman Square. It was dedicated in 1934 by the organist of Liverpool Cathedral Harry Goss Custard and served for 75 years before becoming too unreliable. Restoring it has cost over £150,000.
To celebrate the completion of the restoration and rebuilding programme the church will host a celebration concert featuring Professor Ian Tracey 'Organist Titulaire' of Liverpool Cathedral and a regular featured broadcaster on BBC Radio.
The concert is on Saturday 16th April starting at 7:30.
The programme will include works by Léon Boellmann, Haydn, Schumann and Percy Whitlock and will incorporate a live video feed to a big screen.
Admission is by ticket on the door and is £10.00 (students and under-16's £7.00).
St. Thomas's is located on Boston Road Hanwell, a ten minute walk from Boston Manor underground station (Piccadilly Line) , on both the E8 and 195 bus routes which both serve Brentford rail station and has ample local free parking.
24th March 2016