Age Concern Wandsworth launches a unique garden share scheme
Related Links


Information on the Garden Partners scheme is available on the Age Concern Wandsworth website at www.ageconcernwandsworth.org.uk, or telephone 020 8877 8946.


Participate

Comment on this story on the forum Putney or Wandsworth
The scheme, called Garden Partners, is the first of its kind in the UK, it links older garden owners with people who want their own growing space by matching people aged 60-plus who need help to manage their garden with volunteers who tend the garden regularly to grow vegetables, fruit and flowers.
Many of the volunteers for the scheme are also on Wandsworth Council's allotments waiting list, where they face an average three-year wait for a plot.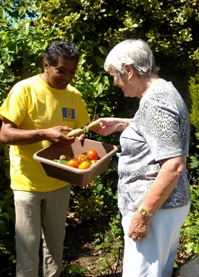 'There is huge interest - particularly among younger city dwellers - in grow-your-own, but many do not have a garden or would like more space. At the same time, older people can find it an increasing struggle to maintain their garden. This scheme can help all concerned as well as making the best use of valuable growing space,' said Garden Partners coordinator, Sarah Jackson.
The scheme is funded by NHS Wandsworth for its health benefits. Garden owners are at less risk of falls and accidents in the garden, while the volunteer gardeners can improve their fitness. Both partners can eat more healthily where fruit and vegetables are grown.
Volunteer Ruth, who recently finished studying horticulture, has become partners with garden owner Dianne. The two live close to one another in Battersea.
'I live in a flat and don't have a garden. Having been at college for the past two years, I've been dying to put all I've learnt into practice. It's a privilege to share the garden with Dianne and we're really looking forward to planning new borders and growing some vegetables,' said Ruth.

Dianne is keen to garden alongside Ruth and learn more about planting and design.:
'I love my garden, but find it hard to manage some of the more physical tasks. I tend to go to the garden centre and buy lots of plants, and the garden ends up a hotch-potch. Having Ruth is great because she knows so much more than I do, and her experience is going to help make the garden look really beautiful.'
July 29, 2009