Massive amount of rainfall turns High Road into river
An almost unprecedented amount of rainfall this Friday morning has brought some of the worst flooding seen in Chiswick since the construction of the Thames Barrier.
The Environment Agency had issued a warning yesterday that flooding was expected and the Met Check web site was predicting over 20mm of rainfall for at least three hours in the morning.
In the event the rainfall was so severe that both Chiswick High Road and Turnham Green Terrace were awash. There have already been a number of reports of serious damage to business premises.
The latest information that we have is that Chiswick High Road is passable. However, two broken down buses are reported to have blocked Sutton Court Road.
Fishers Lane has re-opened after a broken down van and car were removed (see photos below by Ian Wylie and Ben Brophy)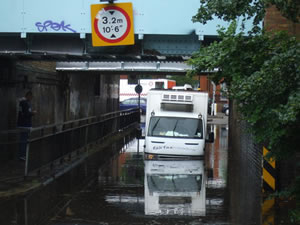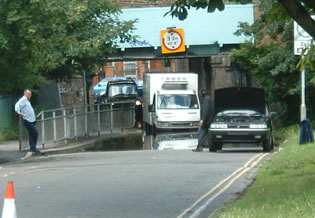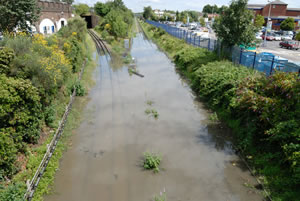 The District line was flooded on the tracks north of Sainsbury's Car Park. The picture to the right (taken by Geoffrey Rippingdale) shows why London Underground have had to suspend services on these lines. The track further up near to the Gunnersbury Triangle Nature reserve looks like a canal.
Sainsbury's is reported to have water flooding through its ceiling and the store is closed as are a number of the larger shops on the High Road.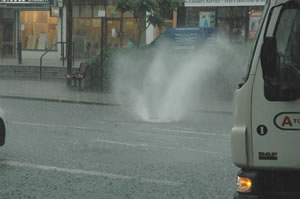 The volume of rain fall was so intense that manhole covers on Chiswick High Road were pushed up by the water pressure. The picture below which was sent by Nick Finn of local estate agents Sworn and Co. shows water gushing out of a manhole opposite his offices at the bottom of Eliot Road.
If you are aware of more disruption or road closures send details to info@neighbournet.com and we will post them here.
More Pictures of the Chiswick Flood
July 21, 2007 4:51 PM