Who is standing and where to vote
Related Links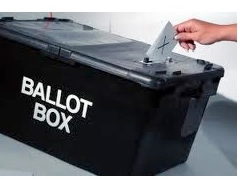 Participate
Comment on this story on the forum
There is just over a week to go until the borough elects its three members of parliament (MPs).
There is also a by-election, in Northfield ward, following the resignation of Conservative Councillor Mark Reen. Voters living within this ward will be given two polling cards – one for the parliamentary election and one to elect a third councillor to represent them on Ealing Council.

Residents will be able to vote at their registered polling station between 7am and 10pm on Thursday, 7 May.
The names of the candidates standing have been published for the parliamentary elections and the by-election.
Ealing Central and Acton Candidates
Angie Bray - Conservative
Rupa Huq - Labour
Jon Ball - Liberal Democrats
Peter Florence - UKIP
Tom Sharman - Green
Andrzej Rygielski - Europeans
Scott Dore - Workers Revolutionary
Tammy Rendle - Above and Beyond
Jonathan Notley - Independent
This seat was newly created in 2010 replacing Ealing Acton and Shepherd's Bush. Previously held by Labour, it became a tight three-way marginal and in 2010 was won by Angie Bray from the Conservatives with a 3,716 majority.
Ealing North Candidates
Afzal Akram - UKIP
Meena Hans - Green Party
David Hofman - Trade Unionist and Socialist Coalition
Kevin McNamara - Liberal Democrats
Thomas O'Malley - Conservative Party
Stephen Pound - Labour Party
Stephen Pound has represented the constituency for 18 years after replacing Harry Greenway in 1997.


Ealing Southall Candidates
Virendra Sharma - Labour
James Symes - Conservative
Kavya Kaushik - Liberal Democrats
Jaspreet Mahal - Green
John Poynton - UKIP
Jagdeesh Singh - National Liberal Party: True Liberalism
In the last 2010 General Election, Labour's Virendra Sharma was voted in with 22,024 votes - 51.51% majority.

Northfield Ward Candidates
Fabio Conti - Conservative
Bruni De La Motte - The Green Party
Joanna Louise Dugdale - Liberal Democrats
Bob Little - UKIP
Anita Macdonald - Labour
Counting of the votes for the Ealing Central and Acton, Ealing North, and Ealing-Southall constituencies will begin soon after the polling stations close; with results to be declared overnight.

Where is my polling station?

There is a map of the appropriate polling station on the back of each polling card. If anyone is unsure of the location of their polling station they can use a polling station finder on the council's website. A list of the locations is also available.



More information

The council's electoral services team is available between 8.30am – 5pm (Monday – Friday) on 020 8825 7777 or by emailelections@ealing.gov.uk

Or, alternatively, visit here
29th April 2015