Aims to change attitudes and provide help to carers
Related Links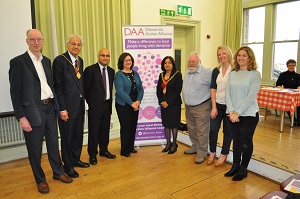 The launch of Ealing Dementia Action Alliance
Participate
Comment on this story on the forum
A new group has been launched in Ealing to mark Dementia Awareness Week.
Community groups, businesses and organisations came together to officially unveil Ealing Dementia Action Alliance at Ealing Town Hall on Monday, 18 May. The alliance aims to change society's attitudes and encourage people to take practical action to help people with dementia, and their carers, to live well.
Local businesses, schools, shops and community groups are encouraged to become members of the alliance. All they have to do is sign the national dementia declaration and state how they will work towards delivering its goals in their organisation.
A number of other events are taking place across the borough during Dementia Awareness Week. Dr Sujoy Mukherjee, consultant psychiatrist at the West London Mental Health NHS Trust, will deliver a series of talks on dementia during the week. He can he heard on the following dates:
• Tuesday, 19 May, 5.30- 7pm at Southall Library
• Wednesday, 20 May, 5.30- 7pm at Acton Library
• Thursday, 21 May, 5.30- 7pm at Ealing Central Library.
There will be an information stall in the foyer of Ealing Hospital on Monday, 18 May; Wednesday, 20 May; and Thursday, 21 May. And on Thursday, 21 May there will also be a cake sale at Ealing Hospital with all proceeds going towards buying resources for dementia patients in the hospital.
And Ealing Council staff will be encouraged to become a Dementia Friend . They will be asked to commit to learning more about dementia and put into practice small day-to-day actions that can make a real difference to the lives of people living with the condition.
People living with dementia, and their families and friends, can also take part in the monthly 'Forget Me Not' dementia café at the Michael Flanders centre, Acton. The café, which is staffed by centre staff and volunteers, provides a relaxed and informal environment where people can share experiences, make friends and find out about council services.
Councillor Hitesh Tailor, cabinet member for health and adults services, said: "In Ealing, around 2700 people have dementia, of whom 1800 live in the community. This will grow as our older population increases and we all need to get better at supporting them. That is why as a council, we are encouraging our staff to become dementia friends and we have signed up to the Ealing Dementia Action Alliance.

"I encourage other local organisations, businesses and groups to sign up to these important initiatives too. The actions of one dementia friend can make a huge difference to a person living with dementia and we all need to play our part."
Councillor Penny Jones of Hobbayne ward has been appointed as Ealing Council's dementia champion. She said: "I am honoured to have been appointed as the borough's first ever dementia champion and, having had personal experience of caring for a person with dementia, will be able to bring that knowledge and experience to this role. I am keen to listen to local people and groups as well as to learn from experience elsewhere about how to promote innovation and excellence in the field of dementia care in Ealing."
To join the Ealing Dementia Action Alliance click here and search 'Ealing'. To find out more email

To find out the next date for the 'Forget Me Not' café, call 020 8825 7875.

To find out more about Dementia Friends click here
19th May 2015