A personal account of the free lateral flow testing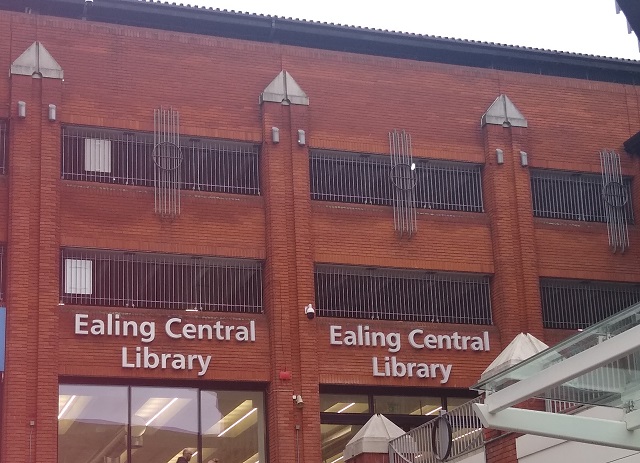 I would never have imagined last January that a year on I would be at Ealing Central Library - not to pick up some additional winter reading - but to have a medical test.
As the doors opened for the now freely available Lateral Flow Test (LFT) for Covid-19 I found myself one of the first to have booked in.
As soon as I became aware that these tests were available I applied online - not because I had any cause for concern - these LFT's are NOT suitable for anyone with symptoms - but simply because I wanted to ensure that I was not carrying this deadly disease. Knowing that one in three people with Covid-19 do not display any symptoms but could still transmit it, made me want to do my bit to try and stop it and the only way to be sure is to be tested.
Like most of us, I have been adhering to rules and guidance and hibernating for the large part of 2020 (and this lockdown new year), so a trip out anywhere is becoming more of a special occasion.
However, it was noticeably quiet as I walked into Ealing on this wintery January afternoon and passing the many shops and pubs with closed signs on their doors more sad reminders of the impact of Covid.
I arrived at Ealing Library the five minutes before my allocated time slot and briefly waited outside before being admitted. I had expected a queue but there was nobody else waiting and I spotted only a couple of other people inside the testing centre, so I didn't feel worried about potentially mixing with others.
First check was at the reception desk to test my temperature and ask if I had any symptoms and then when all was deemed ok I moved onto to the next stage, to receive my barcode and unique reference.
After filling in my relevent personal information online using my phone ( anyone without smart phones other options are available) I was directed to a cubicle and from behind a screen, greeted by a friendly medic helper who instructed me to sanitise my hands and explained what would be happening next.
I was feeling fairly nervous at this point, having never swabbed my tonsils before and unsure even whether I'd be able to manage it. However, I needn't have worried.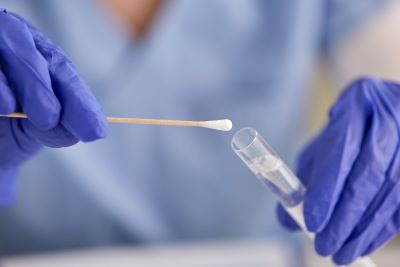 The throat swab was mildly uncomfortable and my helper said the gagging reflex that followed was a good indication that I had hit the right spot!
The nasal swab was simple and no cause for concern.
I handed over the swab stick which was placed in a vial and then tagged with my unique code and, after wiping the table surface and sanitising my hands once more, it was all done.
The whole procedure took no more than 10 minutes.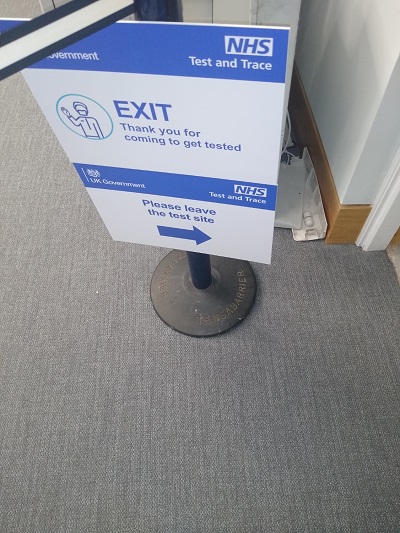 After making my exit from the library/testing centre I made my way home and was totally surprised to find a message on my phone before I even got through the door.
My results had arrived - within the hour.
The NHS COVID-19 NOTIFICATION revealed ''its likely you were not infectious when the test was done" I was negative!
Naturally this was a big relief as the prospect of having to self-isolate (if the test was positive) was not something that would have gone down well with the family - who would have all needed to do the same.
Concerns have been raised over the accuracy of the Lateral Flow Tests after it was revealed they failed to detect three in 10 cases following the pilot in Liverpool last year, so this means a second test has to be booked. I shall be returning to the Library once again.
Overall I'd say the experience was very straightforward, the staff at the centre were helpful, friendly and reasurring and whilst we still all await the vaccine I'd recommend a test to everyone who wants to see an end to COVID-19.

BOOK HERE for Lateral Flow Test
The centres are at Acton Centre, Ealing Central Library, Greenford Library, Northolt Library and Southall Manor.
Anyone with Symptoms get a symptomatic test immediately

Annemarie Flanagan
January 13, 2021