Youngsters encouraged at state of the art facility
Related articles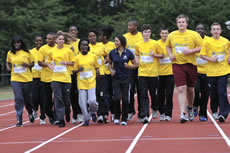 Dame Kelly Holmes on track with Ealing athletes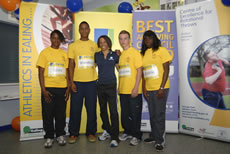 l-r: Sprinter Makeda Lewis (Ellen Wilkinson High School); Long jumper Daniel Bramble; Dame Kelly Holmes; Hammer thrower Dempsey McGuigan (Drayton Manor High School); Hammer thrower Ami Clemens (Twyford High School)
For more information about the athletics track and programmes it runs contact Jamie Bath on 020 8575 5776 or email bathjm@ealing.gov.uk
Residents Complain to Ombudsman over CPZ
Participate
Sign up for a free newsletter from EalingToday.co.uk
Olympic double gold medallist Dame Kelly Holmes joined more than a dozen young athletes at one of Ealing Council's top sports facilities to help them prepare for a major competition this weekend.
The youngsters met with the sporting champion at Perivale Park Athletic Track, in Stockdove Way, on Wednesday afternoon. They have been selected to compete in the Middlesex team at the English Schools Athletics Championships in Sheffield.
In preparation for the competition they took part in a track session at Perivale before a question and answer session with Kelly.
She said: "Perivale has been transformed from an old wooden shack to a new energetic facility. I really enjoyed my time running for Middlesex Ladies and later Ealing, Southall and Middlesex [based at the athletics track] and it's great to see young people still doing so well. We all know nothing happens without a dedicated team so keep up the good work and good luck."
Makeda Lewis said: "It was an overwhelming experience to meet Kelly, especially as she used to train in Perivale like we do, we are following the same path that she started off on. It's a great place to practice and the staff there are really helpful. It's a real honour to have been selected to represent Middlesex and Kelly gave us some great tips and words of advice."
If the young athletes, including four from Ealing, are successful at the English Schools event they could go on to represent England in the UK School Games, which is an international event.
Councillor Phil Taylor, Cabinet Member for Customer and Community Services, said: "Jamie, the track manager at Perivale, has done a wonderful job coaching these young people and we have great hopes that they will go far. The staff at the track work very hard to make sure that we nurture the sporting talent we have in the borough and I'm delighted that we can offer such a high quality training ground for them to use."
For more information about the athletics track and programmes it runs contact Jamie Bath on 020 8575 5776 or email bathjm@ealing.gov.uk
The Perivale Park Athletics Track, run by the Council's Active Ealing team, is a Centre of Excellence for Rotational Throws, which specialises in the hammer, discus and shot.

July 22, 2009