After four-year-old hit by a car outside school gates
Fielding Primary School parents are campaigning for safety measures to be enforced outside their school gates after a number of traffic accidents.
The latest involved a four-year-old boy, William Osbourne, standing outside the school in Coombe Road, Northfields. "I heard a crunching sound and I heard William screaming," said his mother, Katie. "I saw his bike was under the back of this car. Fortunately, he was wearing his helmet, but he was completely hysterical, and I was also in shock."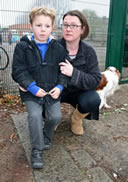 "Only this week I saw a car in Coombe Road doing a three-point turn while children were trying to walk past," continued Katie. "Parents tried to speak to the driver, but he just drove off. So people are still doing crazy things. If you are in a car you just can't see small children, because many of them are below the level of the windows. It's just an accident waiting to happen, and I believe it is only a matter of time before someone is seriously injured or killed.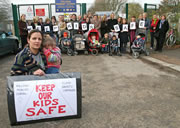 "I think the council has a duty of care. They should not just wait until there is an accident before doing something. If nothing can be done about the road, there should at least be some kind of patrol. Personally, I don't think people should be driving children to school. They are usually stressed and in a hurry, and that is when accidents happen. They are playing with death.

"

A petition launched by parents and governors at has already attracted hundreds of signatures and will be presented to the council on December 11.

The campaigners are demanding effective traffic calming and other measures around the Wyndham Road and Coombe Road entrances to the school, through which more than 700 children pass each school day.

In particular, parents want the council to review the extent and effectiveness of existing speed restrictions and other traffic control measures in the vicinity of the school, as well as address the long-running and problematic question of access to the school through its Coombe Road entrance.

"The current arrangements are simply not working," said parent governor Jackie Jacob, one of the leading figures behind the campaign."It is only a matter of time before someone is seriously injured or worse. Do we have to wait until then before something is done?"

Traffic calming parking measures are currently in place on Wyndham, Northcroft and surrounding roads, but parents complain that they are not adequately enforced and anyway should be more extensive.

According to parent Claire Miller, speed is the problem. "People are driving much too fast" she said. "We need tougher and properly monitored speed restrictions."

"We're talking about very young children here," says Orla Kelly, who has three children at the school. "Most of us walk to and from school every day and always the most anxious time is when we are actually entering or leaving the school site. Surely that's not right?"

Fielding headteacher Annette Reeves is firmly behind the parents' action. "The safety and well-being of the hundreds of children who come into the school every day has to be of paramount importance," she said. "We all owe it to them to make sure that their journey to and from school is as safe as possible."

December 7, 2007