As consultation deadline looms on the controversial development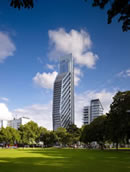 The Board of the Ealing Broadway Business Improvement District (BID) Company have released a statement backing the Glenkerrin 'Leaf' development proposals.
In its press release, the BID spoke of its 'extensive consultations and engagement with the 400 members of the BID over the past six to eight weeks'.
At these presentations and workshops, it says it found that business opinion in the Town Centre recognises that Ealing is at a crossroads and that the 'Leaf' development was seen as an important way forward for the town.
Local businessman Steve Levitt of 'Visage' said: "Either we embrace change and secure the new investment needed for renewal or we face the prospect of steady decline with associated loss to competing new and existing centres in West London."
Paul Witham, the Manager of M&S, added his support: "We recognise that this process of regeneration will take the best part of a decade to achieve," he said. "There is, however, no time to be lost as investors and retailers review their strategies and could decide to exit the Town Centre if conditions for successful trading are not met."
And in a final call for local backing, the Bid Company statement spoke directly to Ealing Council, emphasising the role it will play in making it happen.
"The BID Company encourages the Council to grant planning permission for this vital and exciting development and looks forward to working with the Council in pushing forward the renewal and enhancement of the town centre.
"The BID Company will draw on its extensive knowledge of urban renewal around the country to ensure that the disruption to trade during the construction period will be reduced as much as possible for residents, shoppers and businesses."
Details of the planning application are available to view at the Council's Perceval House offices, Uxbridge Road, Ealing or online and in borough libraries. The planning application will be considered by the Council in early 2008.
December 12, 2007