Further details emerging about incident in West London
Related links
Anyone with any information is asked to call the incident room on 0208 733 4774 or if you wish to remain anonymous ring Crimestoppers on 0800 555 111.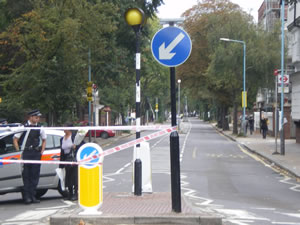 Sign up for a free newsletter from ChiswickW4.com, ActonW3.com and HammersmithToday.co.uk

Police are investigating a shooting in Acton yesterday.
A 24 year old man was attacked whilst walking along Enfield Road.
He left the scene in a car and managed to get to the junction of Prebend Gardens and Bath Road before flagging down an ambulance.
Police were called at 11:14am and witnesses say the man was taken away by air ambulance.
He is believed to be in a stable condition and is suffering from two gun shot wounds to his arm and shoulder.

A large area was cordoned off around Stamford Brook and Bath Road was closed to traffic near the junction of Emlyn Road and Prebend Gardens.
Bollo Lane in W3 was also cordoned off and according to reports Acton High School pupils were temporarily prevented from leaving at the end of the school day.
It's believed that two arrests were made at the scene.
There are unconfirmed reports of a car chase earlier in the day but it is not known if the two events are linked.

Officers from the Met's Trident branch are in charge of the investigation.
September 23, 2009 15:41