Related links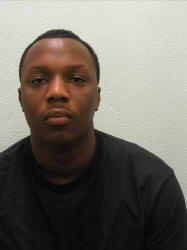 Darrell Desuze

Richard Mannington Bowes
A teenage boy has pleaded guilty to killing a pensioner during the riots in Ealing.
Richard Mannington Bowes was punched and fell to the ground as he tried to stamp out a fire in Spring Bridge Road in Ealing, west London, on 8 August last year.
He was taken to hospital but died three days later.
The judge has now agreed to release the name of the teenager, from Hounslow.
Darrell Adrian Desuze who was 16 at time of offence but is now 17 has admitted manslaughter.
He had previously admitted burglaries on the day of the crime at William Hill, Tesco Express, Blockbusters and Fatboys Thai restaurant.
The court heard that Desuze from Bath Road, travelled to Ealing after getting a message via BlackBerry and was wearing a a black sweatshirt with the words "Robbers and Villains" on the night.
The prosecution say Desuze punched the 68 year old victim with a 'deliberate and deadly' blow, putting all his weight behind it.
Mr Mannington Bowes suffered brain damage when his head hit the pavement.
Mr Justice Saunders today acknowledged the 'painstaking" amount of work done by police in tracking defendant down.
Desuze's mother, Lavinia, 31, denies a charge of perverting the course of justice relating to the offence and will face trial next week.
Darrell Desuze will be sentenced on Friday March 16th.
13th March 2012