Twyford pupil rewarded in London Fire Brigade self-esteem course
Related Links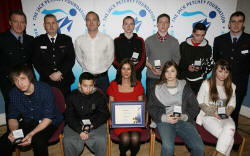 Jack Petchey foundation awards ceremony. Jamie Pitts is second right in back row.
Sign up for email newsletters from ActonW3.com, EalingToday.co.uk,
Participate
Comment on this story on the forum
A successful scheme run by London Fire Brigade to improve the self-esteem of young people and reduce anti-social behaviour has been introduced in Ealing.
Supported by Ealing Council and the Metropolitan Police the Local Intervention Fire Education (LIFE) programme is aimed at young people between the ages of 13 and 17. Many of those taking part have offended, are at risk of offending or may have been victims of crime.
They carry out a number of fire brigade related activities, including the use of ladders, breathing apparatus, casualty rescue techniques, hose line practice and problem solving tasks – all of which are designed to improve motivation, confidence and team building skills.
The project is also designed to address the consequences of anti-social behaviour, improve life skills and values, fire safety and community awareness. In boroughs where it is already operating, LIFE has a proven track record of improving the life chances and opportunities of every young person it works with.
Year 9 Twyford Secondary School pupil Jamie Pitts recently successfully completed London Fire Brigade's LIFE project in Ealing
His efforts and commitment during the course were rewarded by his fellow course members who nominated him to receive a Jack Petchey Foundation Award.
Established in 1999, The Jack Petchey Foundation gives grants to programmes and projects that benefit young people aged 11-25. One of the key funders of the LIFE scheme, the Jack Petchey Foundation has invested over £100,000 in the programme over the last three years. For every award it presents, the Charitable Trust makes a financial contribution to the LIFE scheme.
Jamie was presented with his Jack Petchey medal and certificate at a special ceremony, held at London Fire Brigade's Southwark Training Centre, by London Fire Commissioner, Ron Dobson, on Saturday 16th January.
Ealing Fire Station Manager Mark McHenry said:
''Jamie has achieved a significant amount by passing the course and receiving his award. His teachers have commented how much he has changed; they can hardly believe it's the same boy. It's stories like these that make the efforts of LFB staff with funding from Ealing Borough Council and the Jack Petchey foundation all worth while. Well done Jamie keep going.''
Referrals to the project can be made by a range of local agencies including Youth Offending service, Education and the Police.

January 25th, 2010