As thousands of friends pay tribute to Sofyen
Related Links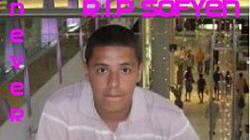 Picture from the Facebook page RIP Sofyen
Anyone with information which may help the inquiry is asked to call the Metropolitan Police incident room at Sutton on 020 8721 4205 or Crimestoppers on 0800 555 111.
Sign up for email newsletters fromFulhamSW6.com , ActonW3.com, EalingToday.co.uk,
Participate
Comment on this story on the forum
Twelve teenagers accused of killing 15 year-old Fulham schoolboy Sofyen Belamouadden have been remanded in custody after appearing at West London Youth Court on Monday, March 29.
Sofyen, who was a pupil at Henry Compton School was stabbed multiple times at Victoria Station at around 5.20pm - the height of the rush hour - on Thursday March 25.
Four of the 12 accused youths, all from South London, are 16 and eight are 17.
Four more teenagers, a girl and three boys were also arrested on Monday morning.
Seven other youths - two 15 year-olds, four 16 year-olds and a 17 year-old - have been bailed by police, which means the total number of arrest is now 24.
As well as going to school in Fulham, Sofyen played football for Chelsea Kickz, a scheme run by the Premier League club for young people in deprived areas and for Acton Garden Village Youth Sunday League team.
A Chelsea FC spokesman paid tribute to Sofyen today, saying he was a talented footballer and adding that he was a "valued participant" in the scheme.
Police believe a fight at the station had been pre-arranged. It's understood that on the night before the stabbing, up to 15 teenagers had clashed there.
Police recovered two knives from the scene.
Det Supt Ashley Croft said the teenager had tragically lost his life through a "reckless act of violence".
The remanded youths are next due to appear on Wednesday at the Old Bailey, where applications for bail will be heard. They will then reappear before West London Youth Court on April 6 before a further committal hearing on April 27.
Thousands of young people have posted tributes in a Facebook site, RIP Sofyen, set up in his memory, and on Saturday dozens of young people gathered at Victoria Station to leave messages and flowers.
March 29, 2010
March 29th, 2010