Plant eating bug on the increase in London
Related Links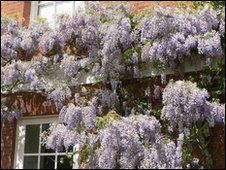 Wisteria Plant
Sign up for email newsletters from ChiswickW4.com
Participate
Comment on this story on the forum
Experts are keeping a close watch on plant life at Fuller's brewery in Chiswick after warnings against the spread of an insect able to ''suck plants dry'.
Wisteria scale bugs, an Asian parasite which targets the wisteria plant, were first found in Vauxhall in 2001.
Andrew Salisbury, an expert at The Royal Horticultural Society (RHS), said there has been a "rapid rise" in the 1cm-long brown helmet-shaped insects.
The first UK reports of the wisteria scale bug outside London have now begun, with confirmed outbreaks in Hertfordshire
Mr Salisbury said there had been "very little the authorities could do" to stop the insects' spread.
Fuller's is home to a 180-year-old wisteria - thought to be the country's oldest.
A spokesman for the brewery said it "valued its wisteria very highly" and was constantly checking its condition.
He explained: "We have one of the foremost wisteria experts looking after it.
"It's examined very closely twice a year and was examined recently and showed no signs of problems so we are confident it's in safe hands."
Meanwhile a spokeswoman for Kew Gardens admitted the insect was present among their plants but insisted it was at a "low level".
She said: "Good husbandry keeps it under control. Kew's wisteria trees are regularly pruned, checked and treated by horticulture staff."

The RHS urges gardeners to use systemic insecticides to control the pest.
Mr Salisbury said the best time to act was mid-summer, when the bugs' eggs hatch and he asked gardeners across London to check their wisteria plants and act now before the problem becomes more widespread.
May 11, 2010