Fiona Ghalustians will help explore the history of midwifery
Related Links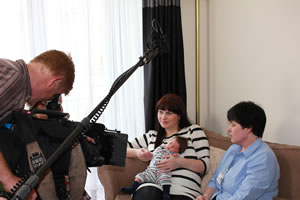 Fiona Ghalustians is filmed chatting with patient and new mother Danute Shaheen with her two week-old son
Participate
Sign up for the BrentfordTW8.com and ChiswickW4.com newsletters
West Middlesex University Hospital midwife Fiona Ghalustians will shortly be appearing in an upcoming episode of the BBC's One Show which will explore the history of midwifery. Fiona was chosen from midwives across the London area to talk about the midwife career and demonstrate some of her daily tasks.
The show follows the history of midwifery from the 16th century to the present day exploring the roles of midwives and how these roles have changed over time.
BBC Producer Kate Thomas-Couth explained how she had chosen this topic for the show: "We were fascinated by the story of midwifery, it's a story people don't quite realise. They have had such an important role through history and their role is now starting to be re-recognised."
West Mid Midwife Fiona is currently working on a Master's degree on the history and development of midwifery. She was interested in the opportunity as soon as she heard about it: "It was the history bit that really caught my attention!" She added "Some of the historical documents to be featured in the show are some that I'm currently reading for my studies."
Fiona's own history of midwifery extends back seven years. She recognised her interest in the profession after giving birth to her own children. After three years of University, Fiona entered the field and has been helping mothers and their babies ever since.
The show is set to air the evening of May 30th at 7pm on BBC One.
May 4, 2011