Industrial action was being taken over 'unsafe' driver at Acton Town depot
Related Links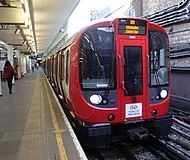 Transport Disruption This Weekend
Travel Updates for Your Area
For other closures further details of alternative arrangements and bus replacement services will be posted here when available. Look out in your site's newsletter for updated information.
Transport for London have informed passengers that the industrial action due to be taken by the rail union ASLEF the District line on Wednesday 6 June has been suspended.
There has been no comment as yet from the union.
The strike planned by RMT and ASLEF members on the Jubilee line on the same day has also been suspended.
The District line action was being held by drivers at the Acton Town depot and was the result of the reassignment of a driver, who had experienced a number of safety incidents in their first few months of driving, to a station staff role. The driver had three separate safety incidents in 11 weeks, leading to a mutual decision for them to return to their previous role on a station. London Underground say the driver was not disciplined, but agreed to the move which was proposed as part of the safety processes agreed to by the trade and it was 'simply not safe' for this person to continue as a driver.
The union say London Underground (LU) failed to follow agreed policies and procedures in the case and that they have refused for months to meet to talk about the matter.
The ASLEF and RMT unions were striking on the Jubilee line over the new timetabling resulting from the increased frequency on the line during peak hours.
London Underground management say that the rosters put in place to operate this timetable are within the agreements made between London Underground and the trade unions, and are already delivering huge benefits passengers.
Customers can keep up-to-date with the latest service information on the TfL website.