With most services reduced and no District line from Boxing Day
Related Links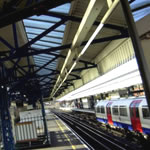 Travel Updates for Your Area
For other closures further details of alternative arrangements and bus replacement services will be posted here when available. Look out in your site's newsletter for updated information.
If you are on the move this Christmas, Transport for London is advising you to plan your journey ahead.
This is particularly relevant in West London as there will be no local District line service beween Boxing Day and 30 December.

TfL says hundreds of metres of track will be replaced in the Earls Court area which will improve reliability for customers travelling on the District line.
This will mean no District line service between Gloucester Road and Acton Town, Richmond and Wimbledon, Edgware Road and Wimbledon, and to and from Kensington (Olympia).
The Piccadilly line will be open throughout these works (except on Christmas Day) and will additionally serve Ravenscourt Park and Turnham Green in both directions and Stamford Brook westbound only.
There is further work taking place on other parts of the District, Circle and Bakerloo lines and customers can get further details at TfL's Festive Travel Page.
As always, Christmas Day is the only day of the year when no tube or rail services operate.
In fact just one form of public transport will be in operation. Santander Cycles will be available to hire as normal.
TfL also says more than 1,000 people will be working on the day and engineering trains will continue to travel on the network and between train depots, all of which remain staffed throughout the festive period.
On Christmas Eve the tube will have an early finish with journeys to be completed around 11.30pm and no night tube service.
Bus services will finish around midnight with no night services and London Overground also finishing early around 9.30pm.
London Overground is closed on both Christmas and Boxing Day. The tube and buses will run a Sunday service on Boxing Day, with a late start around 7.45am.
Sunday service will continue on the tube on 27 December, with a Saturday service on the Overground and a weekend service on buses during the day and normal service at night.
Similar services will operate until 30 December. For full details and advice on travelling on all forms of transport visit TfL's Festive Travel page.
Elsewhere on the travel network, Network Rail will be carrying out Crossrail construction work in readiness for the Elizabeth line in the Paddington area, which will include changes to track, signalling and overhead wiring, and will mean that Paddington mainline station will be closed for six days from 24 through to 29 December and mainline services will instead start and terminate at Ealing Broadway.
Paddington Tube station will stay open as usual. Heathrow Express and Connect services will not be operating during this period and customers wishing to travel to Heathrow are advised to use the Piccadilly line. For train times and detailed information on how National Rail services could be impacted by Christmas engineering work, please go to Nationalrail.
A full list of TfL's social media channels is available at its socialmedia page which includes details of the Twitter feeds for each of the 11 different London Underground lines, buses, the DLR, Trams, London Overground, TfL Rail, Santander Cycles, Emirates Air Line cable car and live traffic news for updates during the festive period.
you are planning to travel over Christmas, the following lines are affected by engineering works.
Transport for London is also offering a complete festive travel guide. with details of service changes and closures on all forms of transport between Christmas Eve and Sunday January 3.
You can read the guide here.
Friday 25 December
No service on any Underground or Overground lines or local train services

Saturday 26 December
No service

Saturday 26 December
No service

Sunday 27 December - Sunday 3 January 2016
No trains will run between Richmond and Willesden Junction.
Passengers should use London Underground between Richmond and Gunnersbury and connecting buses between Gunnersbury and Willesden Junction.


Saturday 26 until Wednesday 30 December
No service between Hammersmith and Tower Hill (via King's Cross St. Pancras). A special Circle line service operates between Edgware Road and Barking (via Victoria)

December 20, 2016