Camogie Junior League Final - Tara 2-6 v 1-2 Croydon
Related Links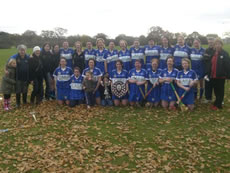 Tara welcome new players of all standards. Please contact Sheila for further information on 0777 1957 341 or
Saturday 15 November 2008 - Tir Chonaill Park, Greenford
A repeat of the Junior Championship final saw winners Tara up against rivals Croydon in the Junior League Final on Saturday.
Tara, playing against the wind in the first half and up the slight hill had a couple of opportunities in and around Croydon's square but goalie Claire McCartney made some good clearances. Applied pressure eventually led to a 45 which was ably converted by Denise Gilligan for the first score of the day. Sheila Fernandes scored the next point but Bridget Hehir of Croydon replied with a great point from a tight angle. Gilligan put another over and Mel Hoare pointed from a free for Croydon. Tara were ahead by just one point going in at half time.
Tara were forced to re-jig the team following an injury to Mairead Carroll, but replacement Meabh Brennan had an outstanding game in midfield and made an immediate impact and more problems for Croydon.
Croydon were first on the 2nd half score sheet with a goal by Rita Mahoney, from a sideline ball which just went right past everyone. From the puck out though Joanne Hamilton pulled on the travelling ball and fired it in the back of the net to put Tara back in contention.
From here Tara began to dominate and Niamh Pentony was finally rewarded with a goal, Meabh Brennan a point and Gilligan, who was closely marked throughout by Claire Curtin, popped up with 2 points from play. There were some other great battles throughout the game, Bridget Hehir & Eimear O'Connor, Mel Hoare & Louise Clarke, Rita Mahoney & Grace Hamilton and both teams fought to the final whistle in a good clean, competitive game.
County Board Chair Jackie Foley congratulated both teams and singled out a few individual from both teams, Croydon's Rita Mahoney, goalie Claire McCartney and full back Claire Curtin whilst for Tara Joanne Hamilton, Sheila Fernandes and Meabh Brennan were mentioned. Etty Kelly congratulated Captain Margaret Heneghan in what was successful year for Tara winning the Junior double and also thanked referee Beano Collins for a good game.

Tara: Jacqueline Thornton, Louise Clarke, Mags Heneghan, Rosie Cusack, Eimear O Connor, Catherine Dwyer, Mairead Carroll (Meabh Brennan), Joanne Hamilton (1-0), Sheila Fernandes (0-1), Denise Gilligan (0-4), Grace Hamilton, Niamh Pentony (1-0). Subs: Leah, Breege Doherty, Patricia Dempsey, Marian Coleman, Rebecca Purcell, Caroline Syme, Orla Maguire, Aoibhinn Sherwin.
November 21, 2008