Final Score - Tara 6-8 Fr Murphys 0-0
Related Links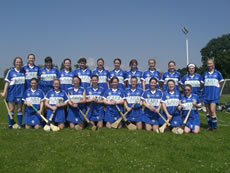 Tara have both Junior and Senior League fixtures remaining and welcome new players of all standards. Please contact Sheila for further information on 0777 1957 341 or
London Junior Camogie - League - Sunday 14 September at Tir Chonaill Park
Tara 6-8 v 0-0 Fr Murphys

Tara proved far too strong for Fr Murphys on Sunday. Tara needed the win to stamp their mark on the League following a defeat to Croydon a couple weeks past.

As Galway struggled for scorers in the Camogie All-Ireland final, Tara were able to spread scores around - Niamh Pentony found the back of the net twice, sisters Grace & Joanne Hamilton notched up 1-5 between them and Denise Gilligan accounted for 3-3.
However, Sinead Kirk in Fr Murphys goal pulled off some great saves for her team on the day.

Tara CC wish their Aussie star, Rosie Cusack, the best of luck as she lines out in the London Ladies panel in their forthcoming All-Ireland Final.


September 18, 2008