Camogie Result: Tara 0-3 v 2-2 Croydon
Related Links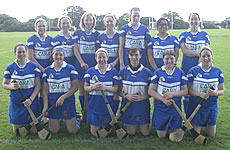 The junior team from Sunday's match
Training – Senior & Junior teams train Mondays and Wednesdays from 7.30pm. Underage training also in progress. New players welcome. Contact Sheila 0777 1957341
Tara played host to Croydon at Greenford on Sunday 8 July in the Junior Championship and it was the south London club who went home with the victory.

Croydon were first to score when the full forward got away from her marker and she blasted the ball into the back of the Tara net. Tara had a fair amount of possession in the Croydon half and Tara's Rosie Cusack pulled back a point in play with a great shot from around the midfield area going over the bar. Croydon replied with their own point to secure a one goal lead going into the interval but both sides could have knotched up a few scores before the whistle. Eimear O Connor and Joanne Hamilton combined well but saw their efforts go narrowly wide. At the other end Croydon saw Tara goalie Mags Heneghan make a great save to clear the line. Half time 1-1 to 0-1.

Second half resumed in the same competitive mode as the first. Croydon scored another point to increase their lead but Tara kept the pressure on and a Karen Kelly effort forced a 45" which Rosie Cusack ably pointed. Tara matched Croydon but the visitors had more experienced forwards who converted their chances well and they again found the back of the net to pull ahead. Tara girls stuck at it and it was again Rosie Cusack who made the score sheet in a fabousouly taken point from a very tight angle. It was too little too late for Tara but overall it was a fairly even game, well contested game in the blazing sunshine ending 2-2 to 0-3 in favour of Croydon.

Although Tara possibly had more chances in and around the Croydon back line area, Croydon were better able to capitalise on their efforts. Tara were well served by Aine Breen, Gemma Strachan and Rosie Cusack throughout whilst Eimear O Connor and Joanne Hamilton were unluck not to make the scoresheet in the first half.

Next game sees the Junior take on Fr Murphys on Wednesday evening at Greenford. Throw in at 7pm sharp. All welcome.

The club is also holding a Ladies Pamper Evening - Something for the Ladies - on Friday 20th July 2007 from 7pm to 10.30pm at Victoria Hall, Sheepcote Road, Harrow, Middlesex. Reflexology, Reiki and Colorometry therapists amongst others will be available on the night as will beauty treatments of manicures, pedicure, facial and massage to name but a few. Entry charge of £10 includes refreshments, nibbles and raffle. Therapies will be charged at a fee of £5 for a taster. Book your ticket now by calling Mags on 07812 819920 or Ann on 07811 050630.

The club's Golf Day will take place at Elstree Golf & Country Club on Saturday 4th August. Tee times start 12 noon. Golf & Meal £50. Hole Sponsors also welcome. For further details contact Mags on 07812 819920 or Ann on 07811 050630.

July 19, 2007