Auditors warn of 'significant doubt' over company's future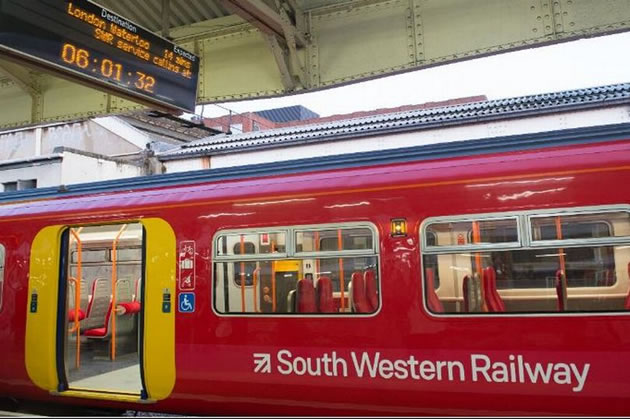 The publication of South Western Railway's (SWR) latest accounts has shown that the train operating company is making substantial losses and the auditors have said there are is 'material uncertainty' over its future operations.
In a filing to Companies House first highlighted by the Daily Telegraph, SWR reported losses of £136.9million as they wrote of £146million in the value of a contract in the year to March 2019. On an operating basis excluding the write off, the company saw revenues of over one billion pounds and saw passenger growth of 6% with a profit of £7million.
This prompted auditor Deloittes to say in the accounts, "Since year end the company has continued to be loss making and current forecasts indicate that losses will exceed the amount of the onerous contract provision within 12 months from the date of approval of these accounts.
The report concludes, "The directors have concluded that there is a material uncertainty that may cast significant doubt on the company's ability to continue as a going concern."
Since these accounts were published the company has been hit by a prolonged strike by RMT members during December which has impacted costs and revenues.
This has led to speculation that the Department for Transport (DfT) may consider taking back the franchise into state ownership. The company is currently in discussion with the Dft about the operation of the franchise. It is understood that the government encouraged the company to stand firm in the industrial dispute with the RMT.
The union is demanding that the company be nationalised. RMT General Secretary Mick Cash said, "Rather than allowing South Western Railway to collapse into chaos RMT is demanding that the existing operator is stripped of the franchise with the public sector taking over as soon as possible. The alternative is Britain's biggest rail franchise crashing into the buffers with dire consequences for passengers and staff alike.
"This comes the day after the new Managing Director of SWR, Mark Hopwood, openly threatened to sack hundreds of RMT guards and hire in a new army of staff who will bend to his demands on compromising safety.
"Instead of threatening our members the SWR company should be packing their things, clearing their desks and making way for a public operator putting safety and services first."
A spokesperson for South Western Railway said, "SWR's recent performance has been affected by issues including infrastructure reliability, timetabling delays and industrial action. We continue to be in ongoing and constructive discussions with the DfT regarding potential commercial and contractual remedies for the franchise and what happens next, in order to ensure we reach the right outcome for the Government, our shareholders and our customers. As set out previously, FirstGroup and MTR have already provided for the maximum unavoidable loss."



January 7, 2020