In addition to New Year's Eve industrial action by RMT union members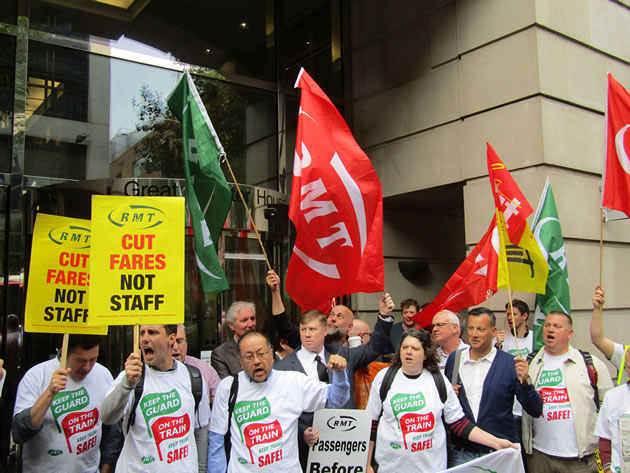 RMT members demonstrate outside the Department of Transport
The RMT union have announced a series of further strikes on South Western Railway services in January in addition to New Year's Eve in the dispute over the requirement to have guards on all trains.

The three further strikes are planned for January 8, 10 and 12. Three other operators: Merseyrail, Northern and Greater Anglia have also had strikes announced for these dates, while action on Southern is limited to January 8.

RMT General Secretary Mick Cash said: "Every single effort that RMT has made to reach negotiated settlements in these separate disputes with the different train operating companies over safe operation and safe staffing has been kicked back in our faces and we are left with no option but to confirm a further phase of industrial action in the New Year. No one should be in any doubt, these disputes are about putting the safety of the travelling public before the profits of the private train companies
"It is frankly ludicrous that we have been able to negotiate long-term arrangements in Scotland and Wales that protect the guards and passenger safety but we are being denied the same opportunities with rail companies in England. This suspension of normal industrial relations by the employers has to end if we are to make progress towards a solution that guarantees safe rail travel for all.
Andy Mellors, Managing Director of South Western Railway said, "None of us wanted to be in this position, and we have repeatedly given the RMT assurances that we plan to keep the second person on all our trains. Despite these reassurances the RMT executive seems determined not to listen and is pressing ahead with these damaging strikes.

"We will continue to try and find a solution, but it is difficult to see what this dispute is about. It's not about money as we have guaranteed people's terms and conditions, it's not about jobs because we have said we will need more Guards not less as we run more and longer trains; and it's not about safety as we want to keep the second person on our trains to provide help and assistance to all our passengers."
South Western Railway say they will run 75% of its trains during New Year's Eve RMT strikes - during the previous strike it managed 60%.
Live Updates on South Western Rail Services
December 29, 2017