Report makes grim reading for local rail users
South West still the least punctual whilst Silverlink's North London Line is the most crowded
Long suffering users of South West Trains continue to get the least punctual service in London according to new figures released today by the Strategic Rail Authority. Passengers on the North London Line operated by Silverlink do get more trains running on time but the report reveals that this is the most over crowded line on London's most overcrowded network.
South West Trains do manage to do slightly better than one other operator at peak times but across the whole day only 72% of trains are arriving within 5 minutes of their schedule.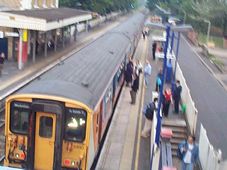 The report also reveals that Silverlink has become the most crowded commuter network in London operating at 7% over capacity against the SRA's recommended threshold of 3% South West Trains operates at 2.7% over capacity.
The high crowding levels recorded by Silverlink reflect the increasing usage of the North London Line between North Woolwich and Richmond, and the difficulties in providing an enhanced service on this route. Passenger numbers have grown by over 50% in the last six years. The over capacity operation on this line alone reached 20%. Since these figures were recorded additional peak services, funded by the SRA, have commenced.

Passenger Rail Performance