Capriani left nursing bloody nose after training ground brawl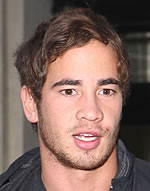 London's women may not find him particularly 'nurseable' according to a recent survey but luckily for Danny Cipriani his girlfriend Kelly Brook does after the Wasps star got into a scrap with fellow team mate Josh Lewsey and came off rather worse for wear.
The incident happened at the Wasps ground on Twyford Avenue during training this week. Cipriani is reported to have told Lewsey to "shut up or be shut up" after being criticised for his performance on the pitch. Not the wisest thing to say if the resulting facial damage is anything to go by.
Although such incidents are unusual at Wasps, this one comes at a crucial time just days before the team is set to defend of their Heineken Cup title against French club Castres.
The club refused to comment on the incident.

October 9, 2008