Colony of alien arachnids sets up home in arches of Kew Bridge
Related Links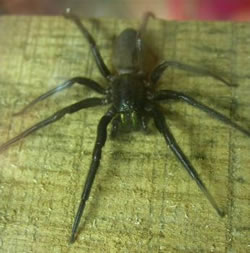 Segestria florentina more commonly known as the tube web spider
Participate
Sign up for a free newsletter from ChiswickW4.com and BrentfordTW8.com
Whilst locals happy to boast a great number of resident luminaries, a colony of spiders is perhaps not one many are likely to advertise.
According to Stuart Hine, head of the Insect Identification Service at the Natural History Museum, a colony of Segestria florentina, or the tube web spider, has set up home under the arches of Kew Bridge.
Although not venomous, the tube web spider can become aggressive when cornered and has been known to bite. "I received a call recently from a father whose 18-month-old child had picked one up," says Hine. "It gave him a hell of a fright."
Hine has recently set up an online forum where people can post pictures of spiders that they do not recognise.
"Many of these invasive species have been in Britain for a while but the difference is that the public are now coming across them," he said.
"So far the species that have been introduced are not all that venomous but I don't see any reason why a black widow wouldn't be able to make a home here."
A video of the BBC report on tube web spiders under Kew Bridge can be viewed here.
October 15, 2008