Local MPs Greg Hands and Andrew Slaughter on opposite sides of the tracks
Related articles: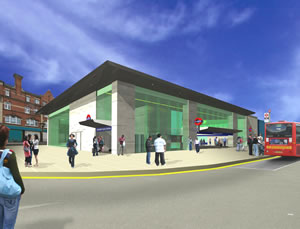 There will be a public meeting to discuss the planned closure and an opportunity to question London Underground officials on 7.30pm Thursday 24th January at Shepherds Bush Village Hall, 58 Bulwer St W12 (entrance on Wood Lane 50m north of Shepherd's Bush Green.)
Participate
Sign up for a free newsletter from ActonW3.com, ChiswickW4.com and HammersmithToday.co.uk
A war of words has erupted between local MPs Greg Hands and Andrew Slaughter over Transport for London's plans to close Shepherds Bush tube station from 2nd February for eight months.
Greg Hands criticised Andrew Slaughter for 'getting his facts wrong' after the MP for Ealing Acton leafleted commuters with a 'false' promise to keep the station open. Hands claims that local residents have hit out against Slaughter's campaign to prevent its temporary closure to build the new station and has received messages of support for the station refurbishment, despite the short term inconvenience of the closure.
Speaking after his meeting with London Underground, Hands said, "I have often criticised London Underground in the past, but this time I think they have got it right. There should have been more notice of the closure, but nevertheless Shepherds Bush residents can look forward to a brand new station, with double the capacity and convenience, compared with the grotty and inadequate facility at present."
He continued "Andrew Slaughter MP's campaign to "keep the station open" is a typical piece of political opportunism, which threatens to jeopardise the future of the new station."
His criticism came after Andrew Slaughter was at Shepherd's Bush tube station this week handing hundreds of commuters a leaflet outlining the reasons why he thinks London Underground are not acting in the best interest of the public or local businesses with their plan to close the central line station.
Slaughter also met with Ken Livingstone, and Tim O'Toole, head of London Underground, to put across the views of the thousands of commuters and local residents and businesses who have written to him and signed the petition opposing the closure.
Slaughter signed off the petition with the ps "Ask the Tory council or retiring Tory MP for Hammersmith why they are supporting the closure rather than standing up for their constituents."
There will be a public meeting to discuss the planned closure and an opportunity to question London Underground officials on 7.30pm Thursday 24th January at Shepherds Bush Village Hall
58 Bulwer St W12 (entrance on Wood Lane 50m north of Shepherd's Bush Green.)
January 18, 2008