Charles Morris talks about Ofsted, oversubscription and what keeps him awake at 3am
Related Links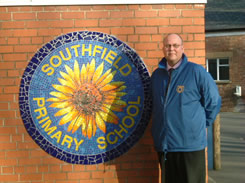 New Head for Southfield Primary - Charles Morris brings renewed energy to local school
Check out school league tables in the Schools/Education section of this site

Participate
Not so long ago Southfield Primary School was so undersubscribed by Chiswick families that they looked to South Acton to fill classes. 2007's applications show a very story with almost three children vying for each of the 60 places available for Reception in September.
The dramatic change is largely due to the school's dynamic head teacher, Charles Morris although he would give the credit to "the most hardworking and dedicated staff he has worked with in all his years in teaching".
"These teachers have stuck with it through a rough patch and their commitment is now bearing fruit which has resulted in them being encouraged and reenergised."
Arriving 18 months ago with a 5 year vision, Morris set about engaging parents and children through surveys to discover what they liked, what the didn't like and what wanted from their school thus defining a new set of aims.
"The overriding factor that came across was that parents loved the diversity and inclusivity of the school. Southfield has traditionally been a melting pot and we are adamant that we will not lose touch with this," said Morris "This is now our second intake and we've gone from a nursery that was never full and a reception year that has never been oversubscribed to being so oversubscribed we are having to turn away children from the catchment area."
Having to turn away any child is not something that makes him happy and when asked what he thought the turnaround was due to he said, "Talk is more positive in local neighbourhood. People see that the school is more settled and therefore it's coming back into vogue like it was 10 years ago. We also had a very good Ofsted in January which took the school from 'satisfactory' to 'good'"
Again he is being modest. Ofsted did indeed give the school a 'good' rating but also said the school was "relentless in their drive to improve standards" and that the inspectors had sat in on the "best lesson they had seen in the last 12 months."
"We're proud of the report and want to get the message out there. We now match up with other school in league tables, our value added score was amongst the top 40% in country and our chess team is in the top 100 in country. And the governors by far the best I've worked with so much so that many of them are head hunted left right centre!"
Amongst the challenges the school faces is the intake of children in KS2 for who English is a foreign language but are expected to sit the same SATs as the other children. To deal with this the school will be introducing a new system from September which will see new the school triple their provision for English as Additional Language pupils with a two tier system - Beginner English and Advanced English.
"We found that once children have access to vocabulary they really take off. This will be done as a separate lesson with the children spending the remainder of their time with their class to develop the all important social skills."
The management structure of the school has also been altered with new recruit Adil Sutaria coming in as Assistant Head Teacher in charge of Curriculum Assessment and Early Years Foundation Stages leaving Associate Head Teacher Mr Snell to oversee Pastoral care.
"I'm often asked by parents what they should you look for when choosing a school for their child," says Sutaria "I tell them to go with the vibe, is it a place that will nurture your child? We aim to provide a happy positive place so that parents and children enjoy their school experience. Our motto is Southfield is a place to learn and a place to learn for everyone."
With £60,000 spent on enhancing the nursery and reception classrooms, extensive sports provisions – Southfield has just earned Football Association England Charter Status for its quality in coaching – and an impressive range of after school clubs in which more than 400 of the school's 450 pupils participate, it's clear to see where Southfield is getting its new vibe from.
But what still wakes Charles Morris up at 3am? "That the school doesn't lose its traditional aims of diversity and inclusivity."

July 11, 2007