Latymer Chemist Heads to Moscow
Related Links
Participate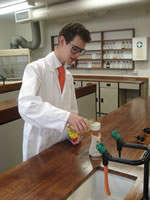 A sixth-former at Latymer Upper School has won a place at the prestigious 39th International Chemistry Olympiad in July 2007 in Moscow.
Matthew Cliffe from Ealing (pictured right in the middle of a chemistry experiment) was invited along with twelve other students from around the UK to enter for Round Two of the chemistry Olympiad; this took place over a weekend at Keele University at the end of March.
A UK team of just four students was selected from this group and they will represent the UK in Moscow at the International Olympiad.
"This is an extremely exciting opportunity for a gifted chemist," says Dr Brian Chaplin, Head of Science at Latymer Upper School. "Matthew thoroughly deserves to be up there with the very best young chemists in the UK. I'm sure he will do well in Moscow."

May 2, 2007