Demonstrating with locals over New Year fare increases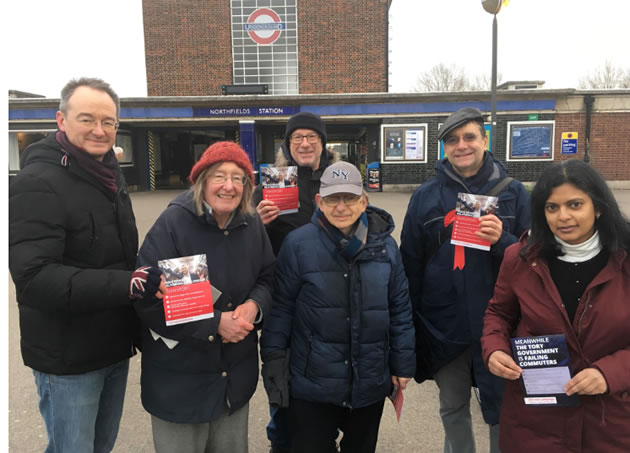 Related Links
Participate
Comment on this story on the forum
Ealing residents returning to work after the New Year were met by local Labour MPs Rupa Huq and Steve Pound, who were part of a protest against increased fares for commuters.
Council Leader Julian Bell along with councillors including Sarah Rooney (Acton Central), Aysha Raza (Greenford Green), Linda Burke (Cleveland), Praveen Anand (Ealing Common) and dozens of campaigners, turned out at nine tube and rail stations across Ealing last Wednesday (2 January).

Rupa Huq MP said, "The situation in London is good compared to the incompetence of Transport Minister 'Failing' Chris Grayling who has presided over £700 million cuts to TFL, 3.1% increases in travel cards and rail fares and consistent strikes across national rail services. By contrast Sadiq Khan has frozen fares for the third year running, seen a 65% decrease in tube strikes, the launching of the night tube and the commitment to tackle travel pollution across London.

"Transport is a huge concern in Ealing as I saw in December when I held a lively roundtable residents meeting with TravelWatch in Parliament where worries over the cutting of bus routes in Ealing were voiced directly to TFL and bus operators. Grayling has messed up with HS2, Heathrow and Cross Rail and now he's awarded a ferry contract for no deal Brexit to a company with no ferries or record of ever running any. You couldn't make it up. The last Conservative London Mayor has a poor record of vanity projects like the garden bridge, cable car and water-cannon."
The Mayor has recently come under criticism for an alleged failure to make the public aware of likely delays to the Crossrail project.
Transport will be a key issue for the next GLA elections in 2020.
The full list of station covered is as follows:
Southall
Hanwell
West Ealing
Northfield
Ealing Broadway
Acton Central
Greenford
Northolt
Perivale



January 10, 2019