Hounslow Borough ranks amongst most polluted in London
New Government statistics reveal that Hounslow Borough ranks as the 7th worst of 33 London Boroughs for its C02 emissions.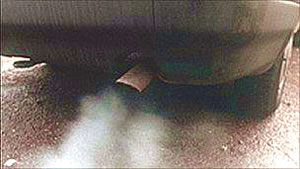 Carbon dioxide emissions across the UK increased by 0.5 % last year. Andrew Dakers , Lib Dem Parliamentary Spokesperson for Brentford and Isleworth, said "This increase in carbon emissions reveals that the Government is in reverse gear when it comes to tackling climate change. It is becoming clear that we not only have little hope of reaching our domestic 20% reduction target for 2010 but that we may even miss our Kyoto target.
"Hounslow ranks as the local authority with 7th highest for CO2 emissions overall out of 33 London boroughs. Emissions total 10.2 Kilotons per thousand people. Looking at domestic emissions alone Hounslow ranks 20th out of 33. These were 2.5 Kilotons per thousand people.
"The Liberal Democrats' alternative to secure energy supply and significantly reduce carbon emissions would focus on energy efficiency, reducing demand, carbon capture and storage, microgeneration and the development of a range of clean renewable energies."

Five political parties have signed up to a joint agreement on the need to tackle climate change together. The Conservatives, Liberal Democrats, Scottish National Party, Plaid Cymru and the DUP together representing 276 Members of Parliament, have put aside party differences to develop policies on "the most serious threat we face".
February 3, 2006