Crew members on the Thames launched lifeboats 884 times in a busy year
Related Articles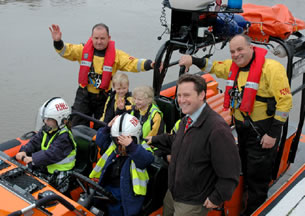 Participate
Lifeboats working along the Thames spent a total of 2,012 hours afloat on the river on services during 2012, according to figures released today (Jan 22) by the RNLI.
Chiswick was the second busiest station with 221 launches and 97 people assisted.
Collectively, crews from the Royal National Lifeboat Institution stations at Teddington, Chiswick, Tower (Waterloo Bridge) and Gravesend launched 884 times and rescued a total of 270 people. And, as in previous years, Tower and Chiswick were the busiest stations across the entire RNLI network of 236 stations.
Gravesend RNLI Lifeboat Station was the fourth busiest, while Teddington – which relies entirely on a crew of volunteers - was ranked number 21 out of the 236 stations in the UK and Republic of Ireland.
Overall it meant another busy year for the lifeboat crew members who carry out an essential search and rescue function on the tidal reaches of the River Thames, in a year when all eyes were on the city thanks to the Queen's Jubilee and the 2012 Olympic Games.
All but one of the Thames lifeboat stations differ from their costal counterparts in that they don't rely solely on volunteer crew members. Because the required lifeboat launch time is a speedy 90 seconds, some crew members are paid staff, and the stations are manned around the clock.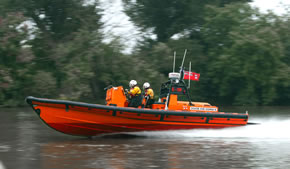 The new Chiswick lifeboat
It's this arrangement that enables the lifeboat crews to respond so quickly to incidents such as:
Of the 884 launches carried out in 2012 by lifeboats from Chiswick, Tower, Teddington and Gravesend, 592 were in response to reports of individuals in danger in or near the water. Of these, 364 launches were to people suspected to have deliberately put themselves in danger or harm's way.
Out of the other 292 launches, 76 were to commercial vessels, many of which were medical emergencies which required the lifeboat crew to administer first aid. 143 launches were to assist people in sail, engine or people-powered vessels on the Thames for leisure reasons. 73 launches were due to a wide variety of reasons and were classed as miscellaneous or unidentified.
Andrew Ashton, Divisional Operations Manager for the RNLI, said: 'It was another busy year for our lifeboats on the River Thames, in a year when the world's spotlight was firmly trained on central London. The Thames was the location of the Queen's Diamond Jubilee Pageant – in which we had one of the biggest deployments ever of RNLI inshore lifeboats to provide safety – and the city welcomed millions of extra visitors to the Olympic Games.
'It is no wonder our lifeboat crews had another busy year. Of course, we can only do what we do, and help those in distress, thanks to the generous support of fundraisers and supporters. As a charity, independent of the Government, we rely on these contributions to continue our work. For that, the RNLI says a huge 'thank you' to the public for their continuing support.'
To find out more about the RNLI, visit www.rnli.org.uk
| RNLI Lifeboat station | No of lifeboat launches | No. of people assisted | Crew hours at sea on service |
| --- | --- | --- | --- |
| Tower | 499 | 105 | 909.76 |
| Chiswick | 221 | 97 | 492.51 |
| Gravesend | 111 | 57 | 435.98 |
| Teddington | 111 | 57 | 435.98 |
| Total | 884 | 270 | 2012.47 |
January 22, 2013