Green garden waste collected from the kerbside again this winter!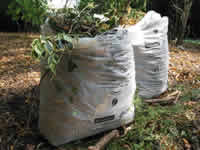 This year we have collected more garden waste than ever before. Please keep using the garden waste collection service over the winter period to help us achieve our highest ever recycling rate this year.




From 26th November 2007 to 29th February 2008, a weekly booking (winter) service is available. All garden waste MUST be placed out in the special biodegradable sacks as usual, and a booking MUST be made. A normal weekly (summer) service will resume on 3 March 2008.


Residents should call ECT Recycling on 020 8813 3191/3192 to book a collection for their garden waste on their next usual collection day (same day as summer service). Bookings should be made at least two days in advance and put out for collection at the edge of your property by 7am.

Advertising Promotion
November 9, 2007